Cisdem PDF Compressor is a Mac application that efficiently compresses PDF files in bulk while maintaining high quality. It offers four different compression presets to reduce file size.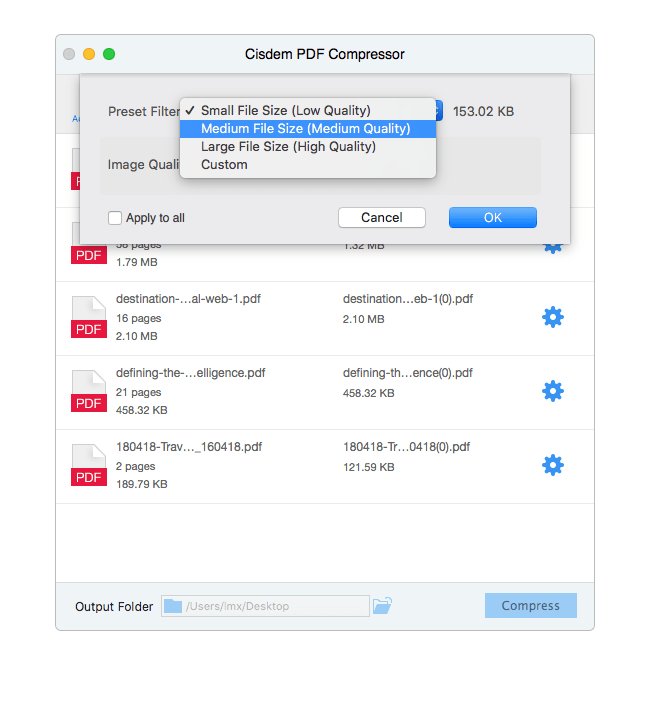 If you're in search of a smart PDF compressor software for your Mac, look no further than Cisdem PDF Compressor. It's a powerful tool that can reduce the file size of your PDF documents with ease. With drag and drop functionality, you can compress PDF files in batches.

One of the best features of Cisdem is its four preset filters. These filters are tailored to meet your PDF compression needs. Choose from Small File Size, Medium File Size, Large File Size, and Custom options. With these presets, you can reduce PDF file sizes by up to 90% while maintaining the best possible quality.

Cisdem PDF Compressor offers several key features that make it stand out from the competition. First, you can compress multiple PDF files at once, which is a real time saver. Second, the software offers four preset modes, so you can easily adjust the compression settings to meet your specific needs. Third, Cisdem PDF Compressor only removes the unnecessary elements of your PDF files, ensuring that you retain the highest possible quality. Finally, the software supports all versions of PDF documents, so you can use it regardless of the PDF format you're working with.

In conclusion, if you're in search of a reliable PDF compression software for your Mac, Cisdem PDF Compressor is an excellent choice. It's a robust tool that offers numerous features for compressing PDF files quickly and easily. So why wait? Try Cisdem PDF Compressor today and see how it can help you streamline your PDF file management.
What's New
Version 4.0.0: 1. Optimize user interface.
2. Fix some minor bugs.