The Filename Builder feature allows users to customize their filenames through different options such as adding prefixes and suffixes, dates and numbering. The Batch Engine ensures high-speed processing of the files.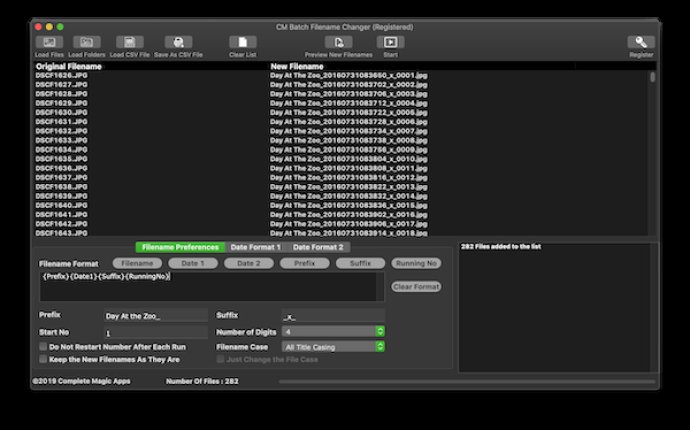 I recently got the chance to take a closer look at CM Batch Filename Changer - a fantastic software that has been developed to help Mac users easily batch rename their files. This app has been designed to make the task of renaming hundreds or even thousands of files as quick and easy as possible, thanks to its intuitive interface and a wealth of helpful features.

One of the standout features of CM Batch Filename Changer is its intuitive two-step method, which allows users to quickly build a custom filename format using the built-in filename format editor. With the help of quick macros, users can easily add dates, running numbers with padding, and other custom elements to their filenames, preview the changes, and then proceed to do the actual renaming.

Another impressive feature of this software is the inclusion of two different date format editors, which allows users to set up different date formats using the Date Builders. Users can choose to use either the Creation Date, Modification Date or EXIF Date, depending on their specific needs.

For those who prefer to use their own custom filenames for each file, the software also allows manual updates to the New Filename properties on the list. Alternatively, users can choose to use a CSV file from their app or their favorite Spreadsheet to generate the list.

Finally, one of the most impressive aspects of CM Batch Filename Changer is its powerful renaming threads. This feature helps to speed up the renaming process, allowing users to get a list of renamed files within seconds or minutes. Additionally, the software retains the original creation and modification dates when performing a filename change, ensuring that users can easily track their files at all times.

All in all, CM Batch Filename Changer is an excellent tool for anyone looking to rename their files in a quick and efficient manner. Whether you need to rename photos, documents, or any other type of file on your Mac, this software has everything you need to get the job done. Highly recommended!
What's New
Version 1.1.3: Performance Improvement