Easily calculate your GPA using our user-friendly GPA calculator. Suitable for high school or college, save the results as a PDF for future reference. Enjoy this free tool today!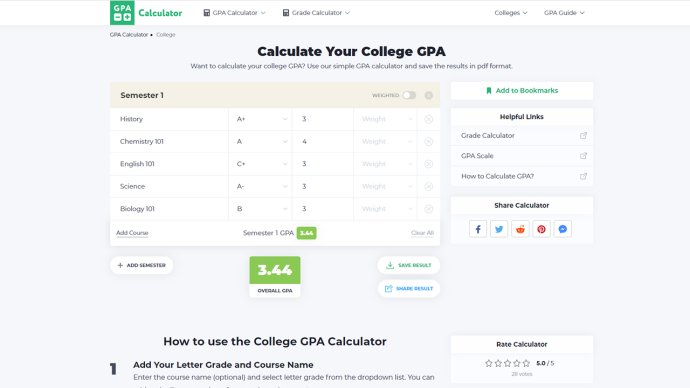 This software review is about College GPA Calculator, a useful tool for students who want to keep track of their academic performance. GPA Calculator makes it easy to calculate your average grade quickly, regardless of where you study or what major you are pursuing. With this tool, you can keep track of semester results and academic progress throughout your entire college career.

If you need to calculate your high school GPA, the High School GPA Calculator is the perfect solution. No matter what your goals are, it's important to know if you are eligible for a scholarship, ready for graduation, and the best college to apply to. The GPA Calculator can accurately and quickly calculate your high school GPA so that you can make informed decisions.

Cumulative GPA Calculator is another helpful tool for students, especially when applying for college or job interviews. Cumulative GPA combines all intermediate GPA scores from every semester. With the Cumulative GPA Calculator, you can be confident that you will get fast and accurate results.

Weighted GPA Calculator is essential to those who prioritize different assignments, such as tests, homework, or practice. Each of them has different impacts on the final score. However, with Weighted GPA Calculator, you can calculate the score that reflects your actual progress effectively.

Overall, the College GPA Calculator is a reliable and easy-to-use tool that can make a significant difference in your academic life. With the multiple features it offers, it is sure to be a valuable asset to any student.
What's New
Version 1.0: N/A