This software offers a virtual keyboard on screen that can be used with a mouse or touchscreen to type in any language. Perfect for Ultra-Mobile PC, TabletPC and kiosks.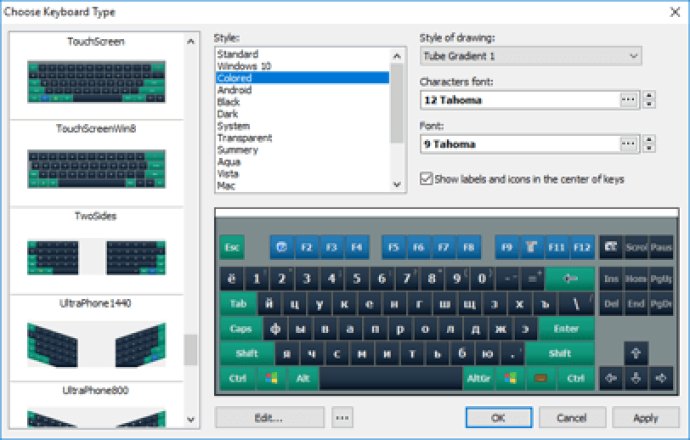 Comfort On-Screen Keyboard Pro is an exceptional software application that displays a virtual keyboard on your screen, enabling you to type with ease using your mouse pointer just like using a regular keyboard. It is specifically designed for use on Ultra-Mobile PC (UMPC), Tablet PC, and kiosk.

This software is the perfect solution for typing on your device without a physical keyboard. It supports all regular keyboard features, including repeated keystrokes when you hold down a key. Moreover, it has additional benefits that make it an essential tool for you.

One of the advantageous features of Comfort On-Screen Keyboard Pro is displaying the icons of shortcuts for Windows and popular applications. It also displays characters in any language actually typed, allowing you to type text without a localized keyboard. You can customize the keyboard appearance by selecting from a wide range of templates, including position, size and number of keys, color, and skin, without having to buy a new keyboard. Furthermore, it has color areas for fingers if you learn to touch type, convenient for seeing which key is pressed on your on-screen keyboard.

Comfort On-Screen Keyboard Pro has the ability to control the typing process without moving your eyes from the keyboard to the monitor repeatedly, reducing eye, neck, and headache strains. The software is also ideal for use as a shortcut reference for various applications. With a visual shortcut reference, you can use the keyboard more effectively and work more speedily.

Finally, Comfort On-Screen Keyboard Pro is fully compatible with Microsoft Windows Vista, XP, 7, and 8. In conclusion, this software is the best solution to ease typing on your device without a physical keyboard.
What's New
Version 9.5: https://www.comfortsoftware.com/on-screen-keyboard/version-history/