This software allows users to batch convert and optimize photos for web usage, while also providing the option to rename and organize in subfolders. With optimization for multi-core processors, the software can fully utilize CPU power to speed up the conversion process. Ideal for preparing email attachments efficiently.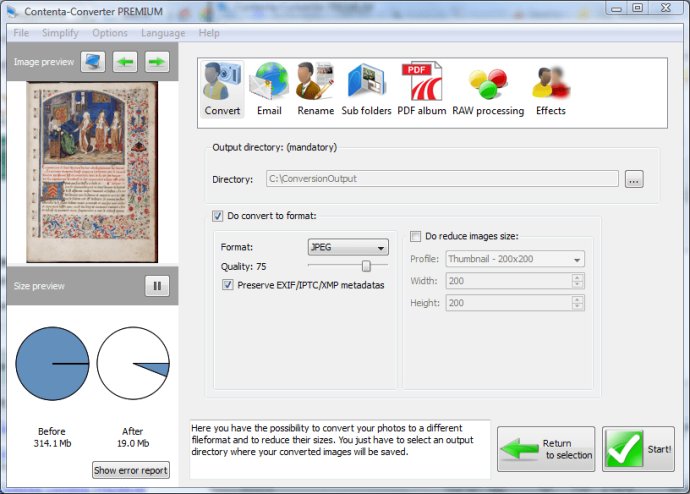 Are you tired of converting your photos one by one? Look no further than this powerful photo conversion software. With its batch conversion feature, you can easily optimize your photos for the internet, batch rename, and organize them into subfolders all at once.

This practical tool is perfect for preparing email attachments and is capable of handling over 50 image formats including JPG, JPEG2000, GIF, PNG, TIFF, BMP, WBMP, TARGA, PPM, PGM, PBM, XPM, ICO, CUT, G3, DDS, IFF, JNG, KOA, MNG, PCD, PCX, RAS, SGI, SVG, PS, EPS, PDF, PSD, RAW, DNG, CRW, CR2, ORF, MRW, THM, NEF, PEF, SRF, SRW, ARW, 3FR, ERF, KDC, SR2, RAF, X3F, DCR, DRF, MEF, MOS, PTX.

With just a few simple steps, you can select your images, set your conversion parameters, preview quality and file sizes, and press start. This software even offers batch file renaming such as CameraModel_Date_Filename.Extension and automatically organizes them into sub-folders by CameraModelCreationYearYearmonthday.

Additionally, this software can transform your images into a PDF album, making it easy to share your photos online and order prints all in one click. You can customize the layout and number of images per page to create an e-book with your photos that's ready for sharing or publishing.

For power users, the software even offers batch RAW processing. You can set the parameters to develop your RAW images including brightness, white balance, and denoising, making it perfect for those who demand the best quality.

This software is optimized for multi-core processors, allowing you to speed up your conversions by using 100% of your CPU. With one year of update protection and technical support included with the purchase of a license, you'll have everything you need to streamline your photo editing process.
What's New
Version 6.5: N/A