This software converts EML and EMLX email message files to HTML format and allows for retention of original folder structure and attachment saving.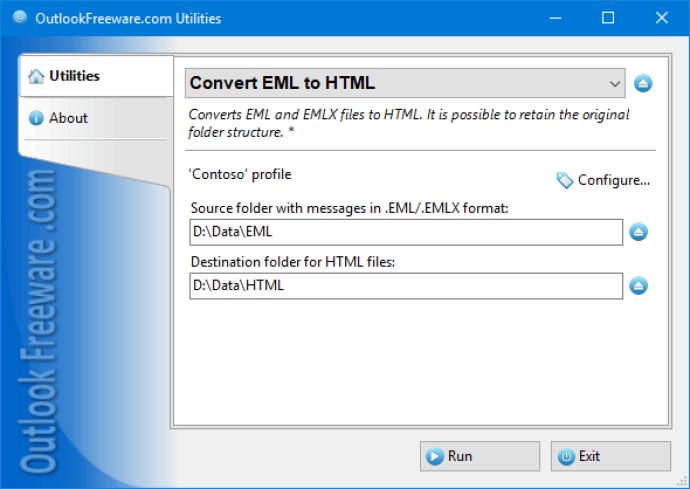 I recently had the opportunity to try out a really handy software utility that converts EML messages into HTML files. As you might know, the EML message format is used by many popular email clients to store emails. The problem is, once you save an email as an EML file, you often need additional software to view it properly - including attachments, recipients, and more. That's where this software utility comes in: it makes it really easy to convert EML files into HTML files, which can be viewed in any web browser.

One of the primary benefits of this utility is that it lets you back up your email messages in a really convenient way. You can save the converted HTML files to a cloud-based drive and access your email from any device, anywhere in the world. Plus, the converted files will contain all the key details from the original email - including sender and recipient addresses, subject and text of the message, and links to attachment files. And if the original message was in HTML format, the original formatting will persist.

Another useful feature of this utility is that it lets you save attachment files to a separate folder, alongside each HTML file. This is a really smart design decision, since it helps keep all your files nicely organized, even if you're dealing with a large number of emails at once. And since the utility can safely convert EML files to HTML format without overwriting existing files, you don't need to worry about losing any important data.

One final note: if you're dealing with a lot of EML files and want to save time, the utility also comes with a command line application that can batch convert messages easily. This is handy if you need to convert a large number of emails from different locations on a regular basis. Plus, if you use our utility for exporting messages from Outlook to HTML format, you can even convert messages directly from Outlook itself. Overall, I highly recommend this utility for anyone who needs to work with EML messages on a regular basis.
What's New
Version 4.20: New features and enhancements.