Split large MBOX files into separate EML message files quickly with this free utility. Work with the files directly in Windows Explorer, search, send to others, and import into email clients like Outlook.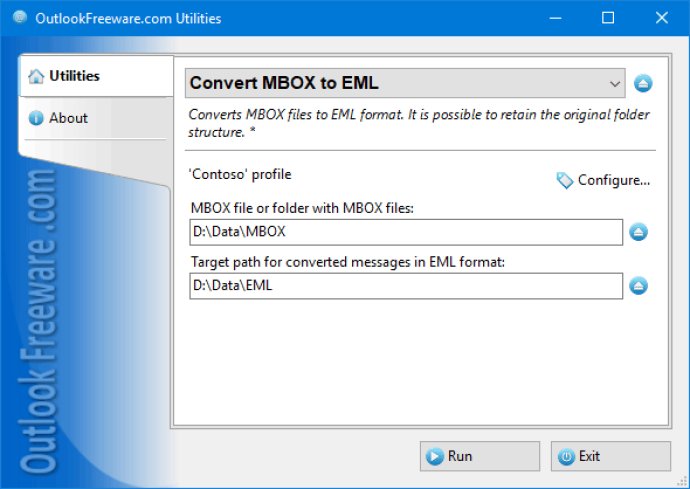 If you are looking for a software utility that quickly splits large MBOX message database files into separate message files in EML format, then you should definitely try out this tool. With it, you can work with your messages directly in Windows Explorer, do a search, send to other users, and import into Outlook or any other email clients.

MBOX format is not supported directly in Outlook or other mail clients, and virtually nothing can be done with message databases in this format. Messages in MBOX format are typically stored in a single file, separate for each folder, and file sizes can be very large, up to tens of gigabytes - this can cause great inconvenience when trying to work with such large files.

In the past, messages in various MBOX formats like mboxo, mboxrd, mboxcl, mboxcl2 and others were supported by many mailers, but this format is now rare and outdated. One of the easiest ways to transfer your old messages to new email programs is to convert them to EML format, and that's where this utility comes in.

This tool allows you to convert multiple MBOX files at once, and a new folder will be created for each file. If MBOX files are located in nested folders, a similar folder structure can be created for resulting EML message files.

Additionally, if you need to migrate many mailboxes in different folders for different users, the product provides a command line and you can use batch files to configure any variants to convert MBOX to EML. Overall, this software is a great solution for anyone who needs to work with MBOX files and wants an easy way to convert them to EML format.
What's New
Version 4.20: New features and enhancements.