Convert XLS is a software tool that enables fast, accurate, and powerful conversion of Excel, CSV, and TXT files. It offers batch processing and automation of complex conversion tasks, making it a comprehensive solution for all Excel-related processes.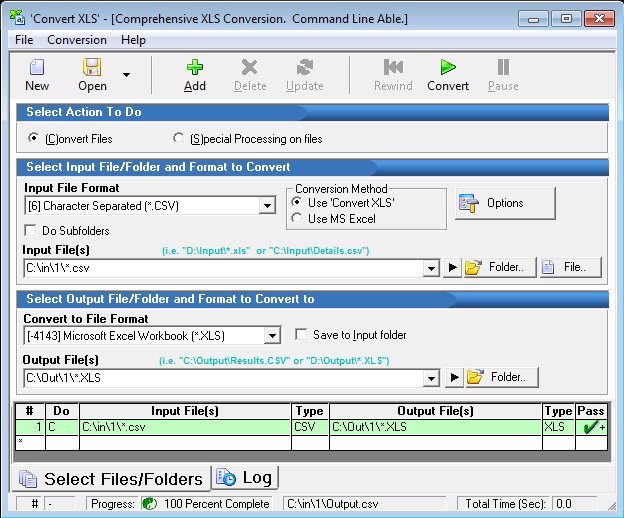 If you are looking for a comprehensive Excel/CSV/TXT conversion tool, then 'Convert XLS' is the perfect software for you. This software is fast, accurate, and powerful, making it the best Excel conversion tool you've never tried, until today. With 'Convert XLS', you can convert excel files to and from XLS/XLSX/Text/CSV/HTML/XML without requiring MS Excel to be installed. However, if you do have MS Excel, the software will support all file types in addition to TXT, XML, CSV etc.

'Convert XLS' is a batch-able software that allows you to automate all your Excel processes easily. You can repeat complex conversion tasks by restoring prior 'Conversion Jobs'. A 'Conversion Job' consists of all 'Conversion Tasks' that you specify to be done within the 'Convert XLS' user interface. This feature saves you time, especially when you have similar tasks to perform.

In addition to conversion, 'Convert XLS' also offers advanced Excel manipulation. It has special processes, including moving, deleting, adding, and copying sheets. You can append/concatenate Excel files into a single sheet, remove extra lines, launch 3rd party programs, search and replace strings and much more. If you are dealing with comma delimited files, 'Convert XLS' has numerous CSV manipulation features that include padding, swapping out the delimiter, and more. You can also convert Fixed Width Text Files to/from Excel or CSV files.

'Convert XLS' supports recursive subfolders, which enables you to convert Excel to/from to many file types, including CSV, XML, HTM, TXT, SLK, WKS, DBF, Lotus and others. You can copy sheet data/formula from the same or different workbook, specify ranges, and merge data from many sheets/workbooks. The software also allows you to copy worksheet(s) whole (including formatting) to the same or different workbook, and specify the location within the workbook. You can merge Excel file data by specifying the sheet(s) (and/or Range within each sheet) from a whole folder of workbooks to a single sheet.

Other useful features of 'Convert XLS' include batch printing of Excel (or any file MS Excel can open), running Excel Macros from the command line or user interface, and converting Word Tables to Excel. You can also change cell numeric formatting of sheets/cells you specify.

Overall, 'Convert XLS' is a powerful and versatile software for Excel conversion and manipulation. It is a must-have tool for anyone who works with Excel files on a daily basis, as it saves time and effort while providing accurate and fast results.
What's New
Version 16.20: Moving a licenses between two computers with Windows 11 was failing.
Application load time reduced.
Office 2022 compatibility completed. Note: Office 2022 was released at the same time as Windows 11.
Version 15.20: Documentation updated for accuracy and completeness.