CooJah 6, an upgraded version of URLCapturer V5.0, combines sniffing and downloading features to capture all network resources requested by your computer, from audio and videos to images and flashes.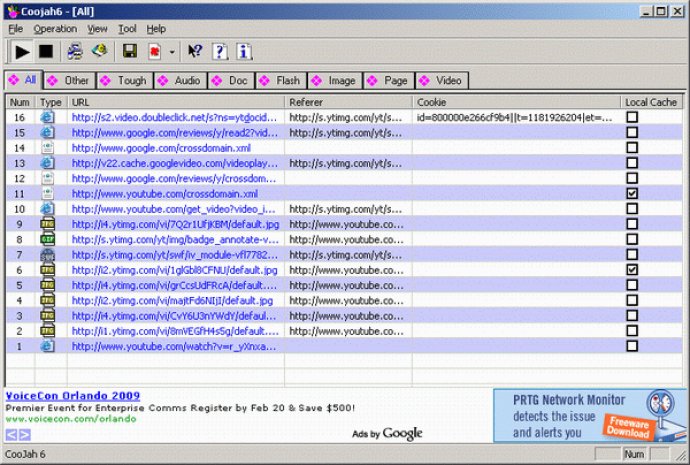 I recently tested CooJah 6, an upgraded version of URLCapturer V5.0, and I must say I was impressed with its functionality. The software offers both sniffing and downloading features, allowing users to detect and obtain various network resources requested by their computer. These resources can be audios, videos, images, and flashes, among others.

What sets CooJah 6 apart from similar software is its exclusive sniffing capability of the entire request and response header, which enables more powerful downloading and real network resource identification. Additionally, CooJah 6 features an exclusive tough network resources downloading functionality that allows it to download all downloadable content, including FLV videos and music, including website background music.

CooJah 6's slogan, "Whatever you see, you listen, I can get it downloaded," perfectly encapsulates the software's capabilities. It supports all kinds of network types on Windows 2000 and Windows XP, including LAN, ADSL, Dial-up, and Wireless connections. Overall, I highly recommend CooJah 6 for anyone seeking a powerful and reliable network resources downloading and sniffing tool.
What's New
Version 6.1.0.0: N/A