Transform your PC into an advanced Cricket scoreboard with Cricket Scoreboard Basic software. Easy-to-use keyboard and mouse interface makes it simple to operate along with your existing computer and display.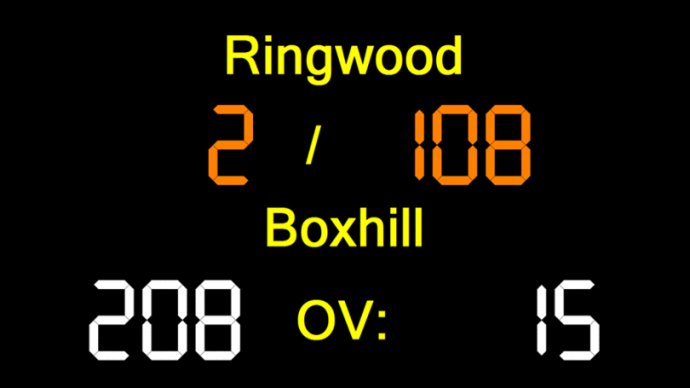 Our Cricket Scoreboard Basic is an excellent software that uses your existing computer and display to make advanced scoreboards for Cricket. The program offers a simple and easy-to-use mouse and keyboard interface for the scoreboard control.

The Scoreboard features customizable colors, team names, and a clean design that allows easy reading for the audience. It supports different display resolutions and comes with a portable USB key that lets you move registration between computers.

The program also includes team names, wickets, overs, runs scored, bowling runs, and a scrolling message that lets you customize your own message displaying on the Scoreboard. You can adjust the speed of the message moving across the display.

With the optional web remote feature, you can control most of the Scoreboard's information from any device that has a web browser, including your tablet or smartphone. By browsing to the URL listed in Options, you can change scores, start a new inning, and do more.

The customizable keys in the Key Options make controlling the scoreboard quick and easy. You can also customize your team's colors, home, and visitor team names, font used for scrolling text, and swap the display order of wickets and runs, among others.

Other customizable options include saving the size and position of windows to make the Scoreboard appear in the same place each time you start it and setting a precise location for the display screen. You can also configure settings for the web remote feature, including a login for access and server settings.

Overall, the Cricket Scoreboard Basic is a perfect software for Cricket enthusiasts or anyone who wants to have an advanced scoreboard on their computer. It offers a simple and customizable interface with various options that make Scoreboard controlling and display easy and enjoyable.
What's New
Version 1.0.9: Now downloads and installs dot net framework 2.5 as needed for smoother install on PC that do not have dot net framework 2.5.
Version 1.0.8: Now allows Wickets and Runs to be swapped on the screens.