Cryptainer USB Encryption Software secures USB drives on Windows PCs, safeguards folders and files on portable drives, and enables secure email transmission. Its user-friendly drag-and-drop functionality delivers reliable data protection.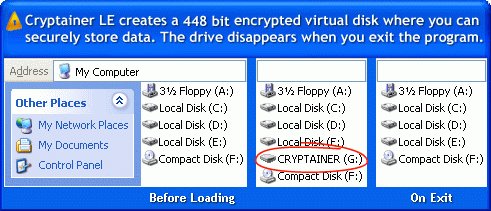 Cryptainer USB Encryption Software is a secure and reliable solution for encrypting USB flash drives on any Windows PC. This software enables you to create a 'stand-alone' or a 'portable' install on an external drive, such as a USB flash drive. One of the most remarkable benefits of Cryptainer USB is that it can be run directly from the device, without having to be installed on the host computer.

This feature allows you to easily carry your important data stored within an encrypted USB drive with you, wherever you go. Cryptainer USB not only enables you to carry your data securely, but it also prevents data leakage from theft and loss of USB drives or any portable drive. With the password protection feature, you can protect your sensitive information from unauthorized access, ensuring complete privacy and security.

Cryptainer USB makes it extremely easy to encrypt USB drives on any Windows PC. As an additional security measure, you can password protect your files and folders on any portable drives. The software allows you to send secure emails, as well as perform drag and drop operations. These features make the software simple, secure, and easy to use.

Furthermore, Cryptainer USB ensures complete peace of mind by preventing data leakage from theft or loss of USB drives or any external drive. The software enables you to protect your USB, files, or folders against unauthorized access by encrypting your confidential data stored on external or removable drives. Any data stored in the encrypted drive remains totally inaccessible to anyone but the user. In the event of your USB drive being stolen or lost, your data remains secure.

Cryptainer USB includes a virtual keyboard and a privilege mode option that can help prevent a keylogger from capturing keystrokes. These features ensure complete security for your data, making sure that only you and nobody else can access it. The software creates an encrypted volume that can be accessed only with a password. Once mounted, the volume behaves like a standard Windows drive, and you can read, view, modify, and move files from one place to another.

Lastly, you can hide any type of data on any media using Cryptainer USB. Any kind of file - from Word and Excel documents to movies and pictures - can be encrypted. The software runs on all versions of Windows, is free of nags and reminders, and is not adware. Cryptainer USB Encryption Software is an essential tool for ensuring the security and privacy of your data and must be installed on every desktop.
What's New
Version 17.0.2.0: * Added Shred External option that allows you to securely delete the originals files, after copying them into Cryptainer
* Significant UI improvements.
* Many other bug fixes.
Version 16.0.2.0: * Added Dark Mode to make light text on a dark background. You can now change your display color with just one click.
* Changed the installation path to support multiple Cypherix products.
* As we continuously improve our products, we have re-named them to align better with the user communities.