Review and convert financial transactions securely with our user-friendly software. Import CSV/XLS/XLSX files to QuickBooks in QBJ format. Effortlessly prepare transactions using Excel and convert them in a flash.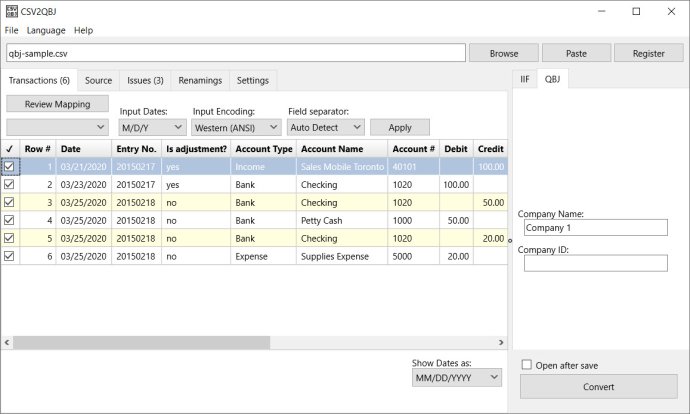 If you're looking for an easy-to-use and secure solution for managing your financial transactions, this software is a great choice. With its intuitive interface, you can easily review and convert your transactions, and then import them directly into your accounting software.

One of the key features of this software is that it can convert CSV, XLS, and XLSX files to QBJ, which can then be imported into QuickBooks. This means that you can quickly and easily transfer data from other sources into your accounting system, saving you time and reducing the risk of manual errors.

In addition to its conversion capabilities, this software also allows you to extract transaction data from CSV or Excel files from your bank. You can then prepare the transactions quickly in Excel and convert them to the desired format. Alternatively, you can work directly in Excel and copy your data into the converter and convert it without any additional steps.

This software supports files in XLS, XLSX, and CSV formats, so you can work with the file types that are most convenient for you. And before you convert your files, you can review the transactions in a readable view, ensuring that everything is correct and accurate.

If you're unsure about whether this software is right for you, you can try it out for free with the trial version, which allows you to convert up to 10 transactions per file. And if you need support before or after your purchase, it's available to help you with any questions or issues you may have.

Finally, the software comes with a 14-day money-back guarantee, so you can buy with confidence, knowing that you can get a refund if it doesn't meet your needs. Overall, this is a solid choice for anyone looking to save time and avoid manual errors in their financial management.
What's New
Version 4.158: Maintenance release