Get your Cyberduck login details back with our free password recovery software.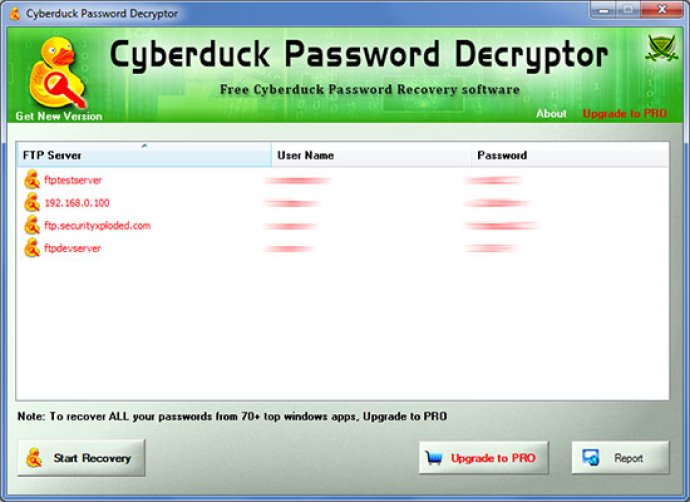 If you are a user of the popular FTP client application, Cyberduck, then you are in luck! Cyberduck Password Decryptor is a free software that allows you to instantly recover FTP login passwords from your Cyberduck sessions. This software is designed to make the password recovery process quick and easy.

Cyberduck stores your FTP login credentials in Windows credential manager, which means you don't have to enter your password every time you log in. Cyberduck Password Decryptor can scan and recover all stored passwords, making it a great tool for IT administrators, penetration testers, and forensic investigators.

One significant advantage of Cyberduck Password Decryptor is the ability to back up the Core FTP password list to HTML, XML, and text files. Additionally, this software is designed with an enhanced user-friendly GUI interface, making it easier and faster to use.

Cyberduck Password Decryptor is compatible with most Windows platforms, from Windows XP to Windows 10. If you need password recovery for 20+ FTP clients, be sure to check out FTP Password Recovery Pro for more advanced benefits.

Overall, Cyberduck Password Decryptor is an excellent tool to keep on your desktop, especially if you frequently use Cyberduck for FTP sessions. Its simple, user-friendly interface provides a hassle-free password recovery experience.
What's New
Version 3.0: Mega 2020 version to support FTP password recovery from latest Cyberduck software.