Easily download Dailymotion videos to various devices without the need for extra codecs or players with a single click using this software. Compatible with PC, iPod, iPhone, PSP, and mobile phones.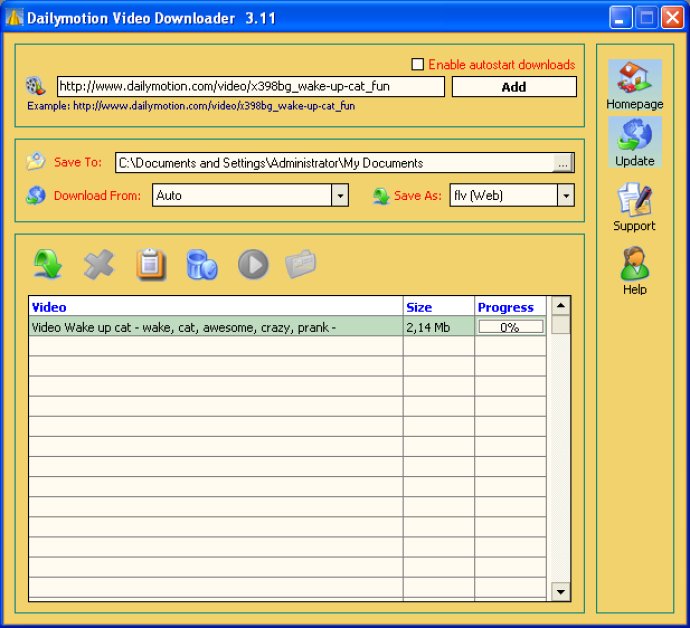 If you're looking to download and save videos from Dailymotion.com, look no further than Video Downloader. With just one click, you can easily download videos to your PC, iPod, iPhone, PSP, or mobile phone, without needing any extra codecs or players.

One of the best features of Video Downloader is that you don't need any additional players to play flash videos. You can simply play them on the default media player classic. This means you don't need to go through the hassle of using scripts for web browsers.

Not only can you download videos to your PC, but you can also save them into a variety of different formats including .avi, .mpeg, .flv, and .wmv. This means you can easily customize the video to fit your specific needs.

To get started with Video Downloader, simply paste the URL of the video you want to download into the program, press add, and the file will be downloaded into your selected folder. Overall, if you're looking for a reliable and easy-to-use tool for downloading Dailymotion videos, Video Downloader is definitely worth checking out.
What's New
Version 3.45: N/A
Version 3.44: N/A
Version 3.43: N/A
Version 3.42: N/A
Version 3.41: N/A
Version 3.39: N/A
Version 3.38: N/A
Version 3.37: N/A
Version 3.36: N/A
Version 3.26: N/A