The Data Doctor Pocket PC forensic tool retrieves essential data from any windows OS mobile phone. The investigation software reveals hidden details such as SIM IMSI, mobile IMEI number, and OS information for further analysis.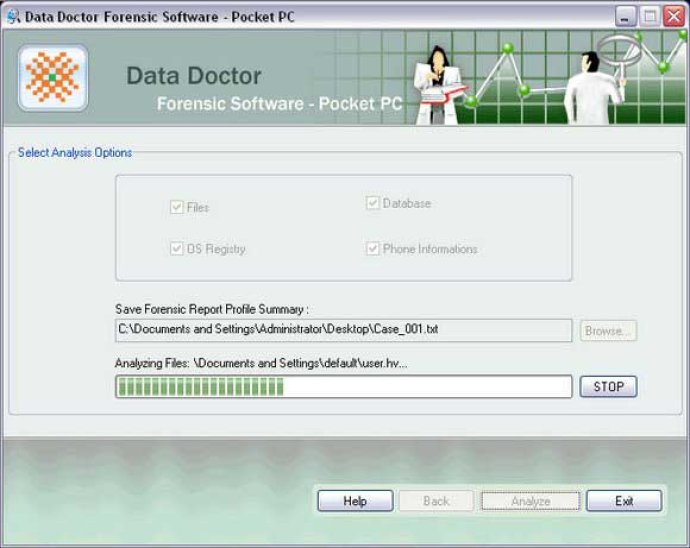 Data Doctor Pocket PC investigation software provides a comprehensive analysis of various windows-based mobile devices such as PDA, smartphone, and others. As a Personal Digital Assistant mobile surveillance tool, it offers complete information about the features of Windows mobile OS such as system files, software, hardware configuration, memory status, database records, and more.

By leveraging a windows mobile phone monitor utility, the software can fetch entire records of your mobile device, which includes dialed and received calls, sent and received messages, mobile model number, SIM IMSI, cell IMEI number, saved files/folders (music, video, pictures, images), and displays all of them on your computer screen.

To enable easy record keeping, Pocket PC analyzer software provides a facility to save retrieved information in text or HTML file format on your laptop or desktop hard disk. Data Doctor Windows mobile investigation application is widely used by investigative officers and detective agencies to find evidence. The forensic software for windows mobile supports all major branded Pocket PC, Smartphone, or PDA device like Spice D-1100, HTC Touch Dual, Epoq EGP-WP98B, Anextek SP230, Sony Ericsson Xperia X1, and Expon MP747-SM, etc.

What's more, the PDA mobile examiner tool supports all windows operating systems including Windows XP, NT, Vista, 2003 server, 2000, ME, and 98. More importantly, Pocket PC analyzer utility comes with a GUI wizard so that even a non-technical user can easily operate this software.

The following are the features of Data Doctor Pocket PC investigation software:
* PDA surveillance utility displays IMSI, IMEI number, phonebook details, memory status, and other software hardware information.
* Pocket PC forensic tool extracts file, folder, system registry, OS version of windows-based mobile phones.
* Windows mobile phone analyzer software provides a facility to save generated reports at user-specified locations on computer hard disk.
* Software supports all major branded windows-based mobiles, Pocket PC, and PDA device.
What's New
Version 9.0.1.5: Added support to all major Pocket PC brands