This software specializes in recovering lost or deleted files from iPod devices and supports various models such as iPod touch, mini, and shuffle. Users can restore music, photos, videos, and other data types, even from formatted iPods.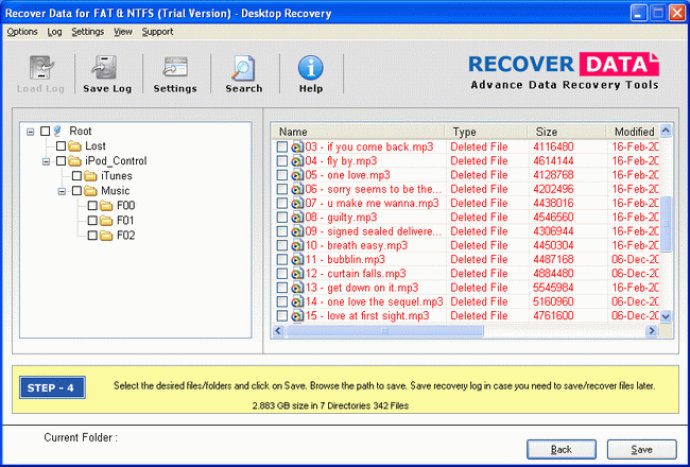 Recover Data for FAT & NTFS software is an efficient tool that can assist you with iPod data recovery. With its help, you can recover iPod songs, files, photos and videos that may have been lost or damaged. The user-friendly interface of this iPod file recovery tool makes it easier to recover data without requiring any specialized skills. It even gives you a complete idea of the iPod recovery software at just a fleeting glance.

In the case of iPod data loss, this iPod Data Retrieval software is treated as the best iPod data backup tool, especially when you are unable to open an image file, play songs and perform other activities on your iPod. Using Recover Data for FAT and NTFS software, you can restore your deleted files and recover data even when the following error messages appear on the screen:

1. "The iPod ** cannot be updated, the required folder cannot be found"
2. "Disk is locked", "iTunes folder cannot be found"
3. "There was an error in the iTunes Store. Please try again later."
4. "Can't lock iPod. Please check if any other applications are using iPod and try again."

The key feature of the iPod data recovery tool includes the following:

1. Data recovery from iPod even if the iPod is corrupted or damaged due to a virus attack or human error, among others.
2. iPod Recovery software supports all iPod generations such as: iPod Mini, iPod Shuffle, iPod Nano, iPod Classic.
3. iPod recovery tool can easily recover iPod videos, files, songs, images, photos & pictures from formatted iPod.
4. Restore iPod songs, even if accidentally iPod data reset operation performed.
5. The iPod recovery tool allows users to save lost iPod files with specific extensions, fix date/time & particular file size.
6. With the iPod file recovery find feature, users can find specific files from the recovered data list.

You can download the free demo version of Recover Data for FAT & NTFS software to perform data recovery from iPod. Overall, it's an excellent tool for iPod data recovery that's simple to use and can quickly recover data from any iPod generation.
What's New
Version 1.1: N/A