The Pen Drive File Recovery software retrieves damaged or formatted data from USB drives. The application works on pen drives and performs data recovery, even for files that have been deleted using shift delete keys.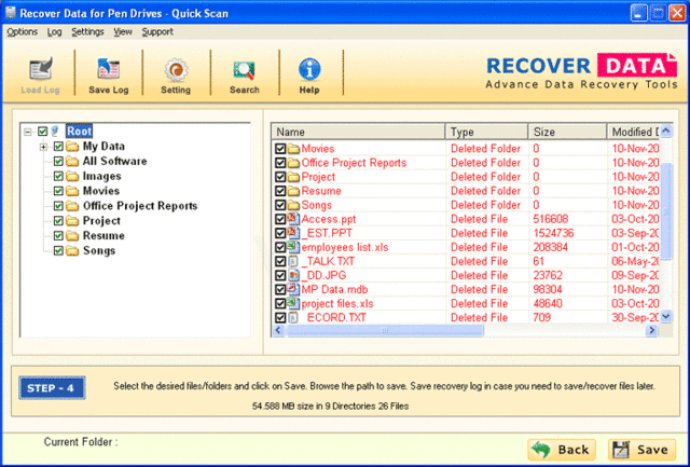 Pen Drive File Recovery Software is a powerful and easy-to-use tool that allows users to recover data from their pen drives with ease. With its cost-effective USB recovery capabilities, this software makes the data recovery process on pen drives a breeze. The attractive Graphical User Interface (GUI) design means that data recovery can be done in just a few simple clicks.

This software is capable of recovering data from a variety of pen drives, including Pen Drive/Thumb Drive/Flash Drive/Memory Stick. Additionally, the pen drive software can be used to recover USB deleted files in a number of conditions. These include recovering pen drive data from reformatted or formatted USB drives, recovering pen drive files even if the folders and files were removed using shift delete keys, or recovering files even when pen drive shows an error "DRIVE IS NOT FORMATTED" when users try to access it in My Computer.

The USB file recovery tool has a number of key features, which include support for recovering data from all types of USB memory sticks brands, such as Apacer, Kingmax, Lexar, Supermedia, Transcend, Kingston, Sony, Viking, Superflash, Generic, and more. Additionally, it can retrieve data from pen drives with 64mb, 128mb, 256mb, 512mb, 1GB, 2GB, 4GB, 8GB, and even higher storage capacity.

The file filter feature allows users to restore files with specific extensions, while the load log and save log features allow users to resume the file recovery process without any loss of data. The find feature is a powerful tool that enables users to search for specific files from their recovered data list.

The pen drive file recovery software is available for download, and users are encouraged to try it for themselves. Please note that the Pen Drive Recovery Tool DEMO version does not allow users to save files and folders from the recovered data list. Overall, the Pen Drive File Recovery Software is a must-have tool for anyone who uses pen drives on a regular basis.
What's New
Version 1.0: N/A