This software enables the reading and opening of dBase tables on any computer, eliminating the need for external libraries. It offers a comprehensive overview of the dBase system, table structure, and data through a user-friendly grid interface.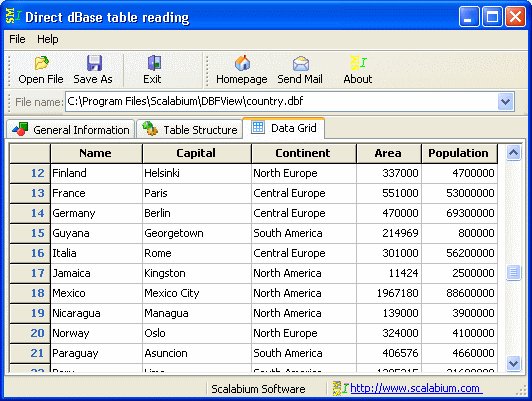 This software is a valuable tool for those who need to read or open dBase/FoxPro tables on any computer. One of its major benefits is that it does not require any external libraries like BDE, ODBC, or ADO, making it easy to use without any additional setup or installation.

This application provides a comprehensive overview of the dBase system, displaying file version and header size, as well as table structure and data in a clear and easily navigable grid. The tool supports all field types, including MEMO, BLOB, graphic, and RTF-formatted memo.

One of its key features is the ability to export data into various formats, including CSV/text file, HTML/XML, MS Excel spreadsheet, MS Access, and SPSS. Moreover, users can generate SQL-script with data dump for more advanced applications.

Finally, all of the main features of the software are available through command-line arguments, enabling users to automate tasks and save time.

Overall, this is a powerful software that can help streamline data management processes and improve workflow efficiency.
What's New
Version 2.9: N/A
Version 2.8: N/A
Version 2.7: N/A
Version 2.6: N/A
Version 2.52: N/A
Version 2.5: N/A
Version 2.4: N/A
Version 2.3: N/A
Version 1.98: N/A
Version 1.95: N/A