DBF Viewer 2000 is a fast and efficient software that allows you to view, edit, sort, create, print, and export DBF files to multiple formats, such as Excel, HTML, XML, and more. It doesn't require any external packages and is a comprehensive solution for managing DBF files.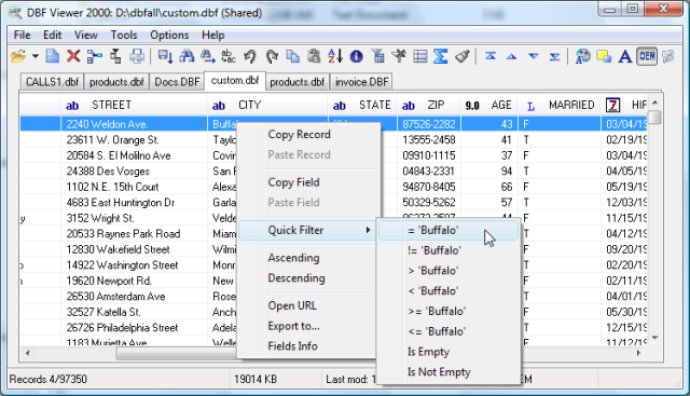 If you are someone who deals with DBF databases regularly, then you know the importance of having a reliable viewing and editing tool. The DBF file format has been adopted by many database management systems, making it one of the most popular formats used today. This is where DBF Viewer 2000 comes in as a solution for viewing, editing, and optimizing database files.

One of the main advantages of DBF Viewer 2000 is its speed. No matter the size of the database, the commands are executed instantly. This software offers features including deleting duplicate records, running queries, and printing and sorting database records. You can export data into a variety of formats, such as DBF, TXT, CSV, Excel, HTML, XML, PRG, SQL, and RTF.

The built-in dbf editor is another powerful feature of DBF Viewer 2000. You can view and edit memo fields in multiple formats and it generates visual dialogs based on the file structure, providing a natural and convenient way of working with various database formats.

What's even better is that DBF Viewer 2000 does not require external drivers for opening database files and can run under all versions of Windows, from 95 to Vista, Windows 7, and server editions. Advanced users can use the command line mode to automate database optimization and batch processing routines.

Overall, DBF Viewer 2000 is a sophisticated yet compact and easy-to-use software that delivers far beyond your expectations.
What's New
Version 7.59: Improved support for Windows 11.
Fixed the issue with exporting to CSV format.
Many cosmetic improvements in dbf viewer and dbf editor.