This software allows users to read DBISAM tables on any computer effortlessly, eliminating the requirement for external libraries such as BDE, ODBC, or ADO. With a convenient grid view, it provides comprehensive details regarding the system, table structure, and data.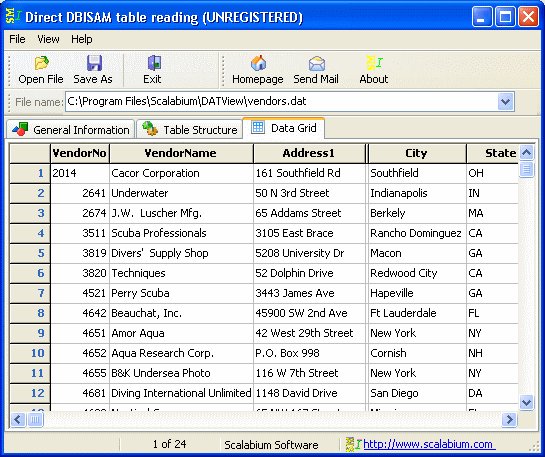 This software provides an excellent solution for accessing DBISAM tables across any computer. It stands out for being fully self-contained, requiring no external libraries like BDE or ODBC, and there is no need for additional setup or installation.

With this tool, users gain access to complete information about the DBISAM system, including file version and header size. The table structure and data can also be easily viewed in a grid. Furthermore, all field types are supported, including MEMO, BLOB, graphics, and rtf-formatted memo.

The software also offers the ability to save data in multiple formats, such as CSV/text files, HTML/XML, MS Excel spreadsheets, MS Access, and SPSS. Additionally, users can generate SQL-scripts with data dump, making it easier to import and export data between different databases.

For password-protected tables, the software includes a feature that allows users to view the valid decrypted password in the tab with general information. All of these features are easily accessible via command-line arguments, making it possible to automate any task that requires interaction with DBISAM tables.

In conclusion, this DBISAM table reader is an essential tool for anyone looking for a hassle-free, self-contained, and feature-rich solution for accessing DBISAM tables across different computers.
What's New
Version 2.9: N/A
Version 2.8: N/A
Version 2.7: N/A
Version 2.6: N/A
Version 2.52: N/A
Version 2.5: N/A
Version 2.4: N/A
Version 2.3: N/A
Version 1.98: N/A
Version 1.95: N/A