Leadum DBScribe is a PostgreSQL database documentation software that offers various styles and formats (HTML, CHM, MS Word Document) for complete database schema documentation. It includes a wizard and command line interfaces for easy integration with various work environments.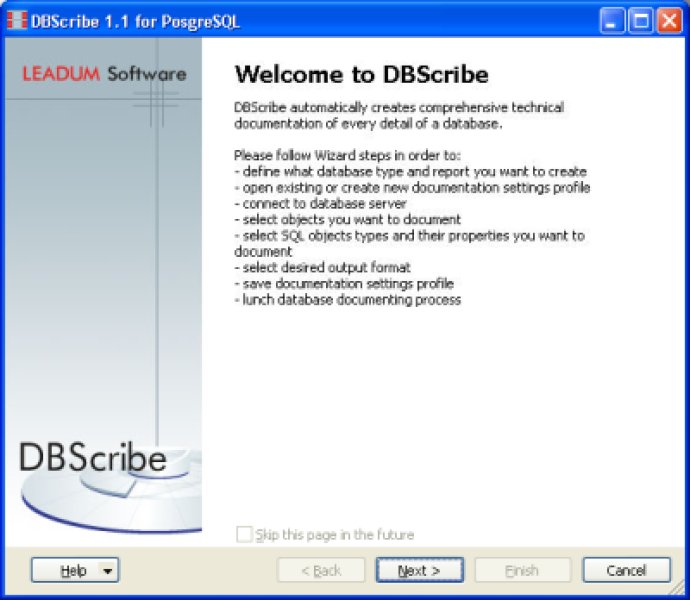 DBScribe is an excellent PostgreSQL database documenter which can create technical documentation for every little detail of a database schema within moments. This software provides a rich set of documentation styles and output formats, including HTML, CHM and MS Word Document. The wizard and command line interfaces make it easy to use, allowing for complete database structure documentation for all SQL object types with their relevant details and properties.

DBScribe also provides a custom documentation profile, and it generates DDL code for all objects that it documents. This software helps you to reduce the time and cost involved in documenting your databases significantly. It eliminates the need for document updating and synchronization after database changes.

Additionally, DBScribe helps manage your product/solution knowledge base, optimize communication between your IT team members, including database administrators, developers, testers, and technical writers. This software increases customer satisfaction by providing comprehensive, professional-looking database documentation that is easy to understand.

In conclusion, DBScribe is a software that can save time, reduce the cost of documentation and increase efficiency in communication and knowledge management. It provides excellent documentation that can be customized to meet specific needs, making it a valuable resource for IT teams.
What's New
Version 1.2: - Improved Activation Form
- Improved Help file
- CHM About page added
Version 1.1: - Improved Activation Form
- Improved Help file
- CHM About page added