Real 27 is a derivative calculator software. It calculates standard functions' high order derivatives, including hyperbolic. The software is ideal for teachers and students.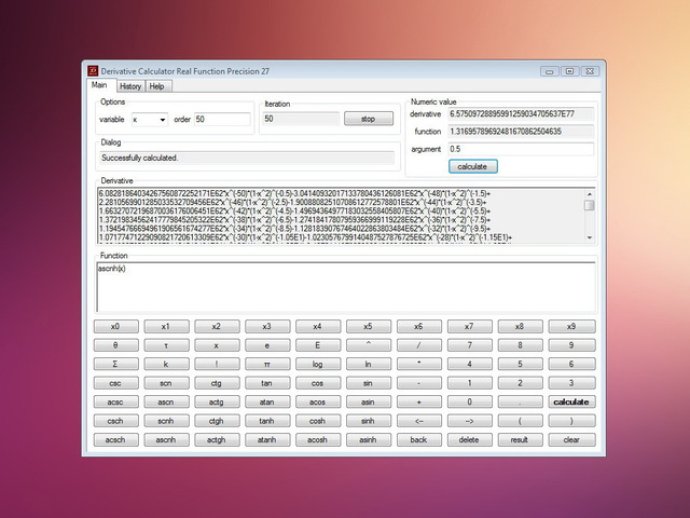 If you're looking for a tool to easily find symbolic and numerical derivatives of standard functions, look no further than Derivative Calculator Real 27. This handy software is fast, reliable, and precise, helping you quickly calculate derivatives of even high orders of standard functions, including hyperbolic ones.

One of the standout features of Derivative Calculator Real 27 is that it's programmed in C# and all calculations are done in a proprietary data type, ensuring speed and accuracy. The software also allows you to store your calculation history into a text file or print it out for future reference.

Another great aspect of this software is its ability to calculate numerical coefficients and values with precision up to 27-36 digits, ideal for those who require utmost accuracy. Moreover, Derivative Calculator Real 27 supports a wide range of functions, including trigonometric, exponential, logarithmic, and inverse ones.

One more impressive feature of Derivative Calculator Real 27 is its ability to generate symbolic formulas that can be used with calculators in the Precision series, as well as the Graphing Calculator 2D Parametric, Graphing Calculator 2D Polar, and Graphing Calculator 2D Numeric, making it easy to draw graphs with your calculated derivatives. The software even allows you to use symbolic parameters to make your calculations even more flexible and customizable.

Overall, Derivative Calculator Real 27 is a powerful and intuitive tool for anyone in need of precise and efficient calculations of symbolic and numerical derivatives. Try it out today and see for yourself!
What's New
Version 1.0.1.2: version checker is added
Version 1.0.0.8: Performance improvement
Version 1.0.0.7: Performance improvement
Version 1.0.0.6: Trial scheme improvement.
Version 1.0.0.5: Corrections
Version 1.0.0.4: Corrections
Version 1.0.0.3: Corrections
Version 1.0.0.2: Corrections
Version 1.0.0.0: N/A