Recover missing digital files including images, pictures, and snapshots in a variety of formats like JPEG, MIDI, TIFF, BMP, JPG, and WAV from various digital cameras including Sony, Kodak, Olympus, Canon, Mitsubishi, Toshiba, HP, and Panasonic with digital camera video recovery software.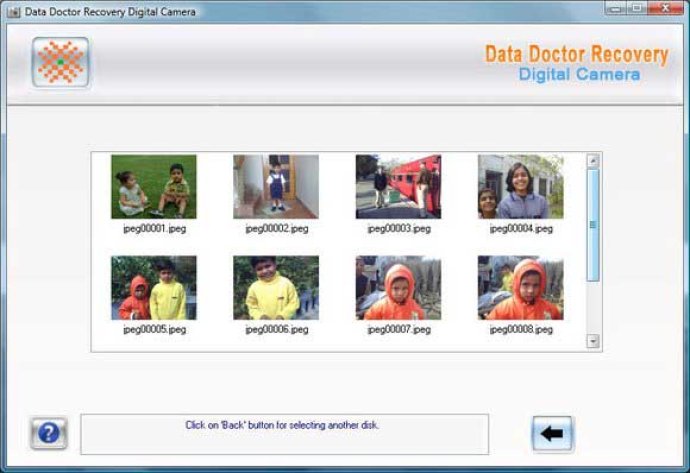 This digital camera recovery application is a must-have for anyone who has suffered the loss of important media files on their device. It is specifically designed to retrieve deleted files, such as images, snaps, pictures, photographs, snapshots, and audio video files, that may have been lost due to a variety of reasons, including a mistakenly pulled memory card, virus infection, accidental deletion, hardware or software malfunction, or other data loss issues.

The program has a read-only permission setting, ensuring that it does not affect other data in the system during extraction of deleted files. It also works efficiently and effectively even when the Drive Not Formatted message is displayed while accessing digital camera on the computer. The digital camera data restoration program can retrieve various erased file formats, including PCT, AVI, MPG, WMA, WMV, MP4, TIFF, RIFF, BMP, PSP, JPEG, GIF, MID, PTX, PEF, CRW, JPG, MIDI, MPEG, WAV, among others, from all types of digital camera memory card.

The digital camera picture undelete tool supports all brands of digital cameras, including Kingston, Ericsson, Olympus, Canon, Acer, Samsung, Sony, Toshiba, HP, Panasonic, Aiptek, Mitsubishi, Kodak, Digital Dream, Everex, Hitachi, Imation, StrataFlash, Jenoptik, and more. It quickly scans the digital storage media to locate the lost images, and after the complete disk scanning, the pictures found in the storage media are displayed, making it easy for users to restore their recovered images at their specified location.

In addition to its efficient recovery capabilities, this software also has various features that make it user-friendly. For instance, it is a read-only utility that provides a preview of all recoverable data before saving it. It works proficiently with Microsoft Windows operating systems, such as Windows Vista, XP, 2003, 2000, ME, NT, and 98. The software also has an inbuilt help manual, which guides users on various operations of the utility. With the ability to recover and restore images, snaps, photographs, and other files and folders from digital camera storage media, this program is definitely worth considering for anyone who wants to recover their lost media files.
What's New
Version 4.0.1.5: Added support for all latest digital camera brands.