DigitizeIt software extracts (x,y) data from scanned graphs and converts into a specified axes system. It can read various image formats (gif, png, tiff, bmp) and save the extracted data in ASCII format for use in other applications.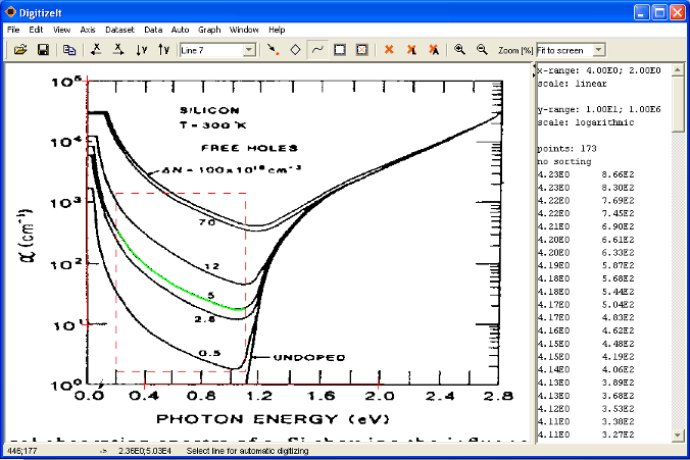 If you're looking for a reliable tool to digitize scanned graphs and charts, DigitizeIt could be exactly what you need. This user-friendly software enables you to load graphs in nearly all common image formats, including gif, tiff, jpeg, bmp, png, psd, pcx, xbm, xpm, tga, and pct, as well as paste them from the clipboard.

Digitizing line and scatter plots occurs automatically, but if you prefer, you can also use manual digitizing via mouse clicks. The software lets you transform data values to a specified axes system, which can have a linear, logarithmic, or reciprocal scale. Once digitized, the data can be saved in ASCII format, and it is ready to use in many other applications, such as Microcal Origin or Excel.

In DigitizeIt, you can define and edit multiple different data sets to work with, and it can handle tilted and distorted graphs as well. This software includes comprehensive online help too, ensuring that you can seamlessly navigate through all of its features and make the most of your data digitization needs.

Overall, DigitizeIt offers a reliable solution for digitizing graphs, with multiple features to make the process as easy as possible.
What's New
Version 2.5.9: Windows 10 enhancements, bugfixes