diskMETA-Lite is a free hard drive search software based on internet search technology. Its advanced search option offers full text document search and supports txt, doc, and html formats. With lightning-fast retrieval in under 1 second, this limited-featured software offers a timesaving solution to document search needs.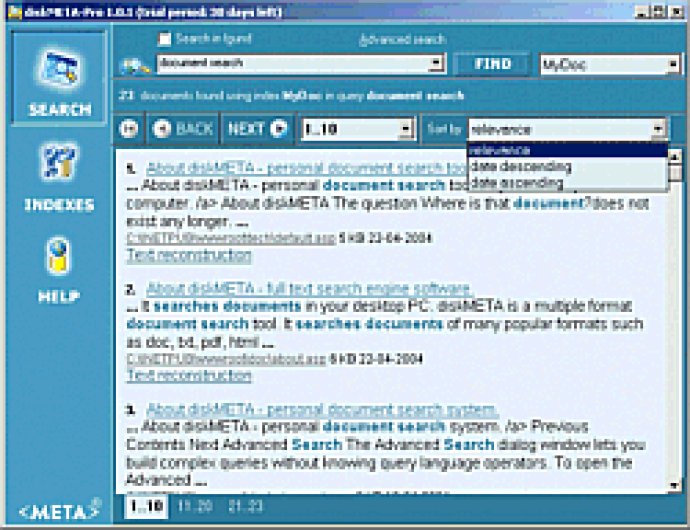 I recently had the opportunity to use diskMETA-Lite, a free version of diskMETA desktop search software. Despite being a limited version, I was pleased to find that it still offered all the same features as the commercial versions. One major difference, however, is that the number of indexes that can be created is unlimited.

The limitations with diskMETA-Lite are that it only supports three document formats - .txt, .doc, and .html. Other formats, such as .rtf, .xls, and .pdf are only available with the commercial versions. Additionally, users are able to add a custom filename extension. It's important to note that the license only permits non-commercial usage. This means it can be used for educational purposes at educational establishments, for personal use on a home PC, or for trial and evaluation in an office computer.

One potential downside to using diskMETA-Lite for trial and evaluation in an office computer is that the free trial period is limited to 10 days since the installation date.

Despite these limitations, I was impressed with the range of features that diskMETA-Lite offers. The software supports intelligent search and fast retrieval search. It offers a simple and comfortable interface, with quotation of text fragments and query words highlighted.

Most of all, however, I appreciated the option to use Boolean and proximity operators to create more complex queries. This allowed me to narrow down my search to only the most relevant results. Finally, I appreciated that the software offers automatic launches of the applications necessary for document viewing and editing.

Overall, I would recommend diskMETA-Lite to those looking for a reliable desktop search software with a range of sensible features, especially users who can benefit from access to the aforementioned document formats.
What's New
Version 1.0: N/A