Protect Excel workbooks with copy protection tool that compiles XLS to EXE applications with hidden formulas and VBA code. Includes regkey copy protection and ability to create trial/demo versions. MS Excel is required to run the application.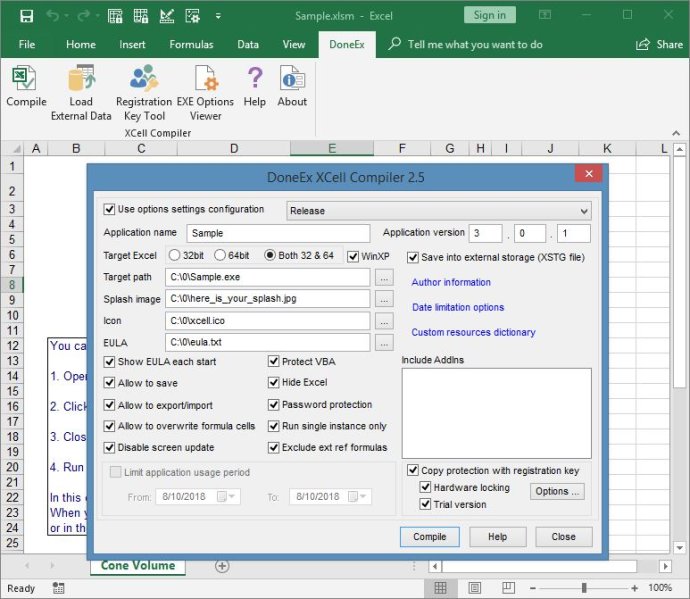 DoneEx XCell Compiler is a software that provides simple and seamless copy protection for Microsoft Excel workbooks. This program allows users to compile Excel spreadsheets into EXE applications with formula and VBA code protection. Additionally, registration and license management features prevent unauthorized copying from one computer to another using hardware locking mechanisms.

The software enables you to add custom splash screens, icons, and end user license agreements (EULA), among other things. The main features of the program include securely hiding formulas by converting them into binary format, compiling Excel workbooks into EXE files, and copy protection for VBA code. The software allows the compiled workbook to run without macro security alerts and can be used even without programming experience.

Moreover, the software offers time-based usage restrictions and features a trial or demo mode with a limited number of days and nag windows. Users can add their own splash screens when compiling Excel workbooks, hide Microsoft Excel on start, and save changed data directly into compiled EXE files. DoneEx XCell Compiler allows for the addition of custom application names, versions, and copyright information, while leaving the original Excel workbook unchanged after compilation.

Lastly, the software restricts access to authorized individuals and limits user activities to the minimum required for business purposes. Overall, DoneEx XCell Compiler is an ideal tool for users seeking an easy-to-use program for protecting their Excel workbooks. For detailed information, visit their website.
What's New
Version 2.6: Computer ID calculation algorithm was modified in order to make computer ID more stable