DosPrint is specialized software that addresses the common compatibility issues between DOS programs and modern Windows computers. It enables you to operate DOS programs and print to various windows printers including USB, GDI, and PDF by installing specific third-party programs. Available for both 32 and 64-bit systems.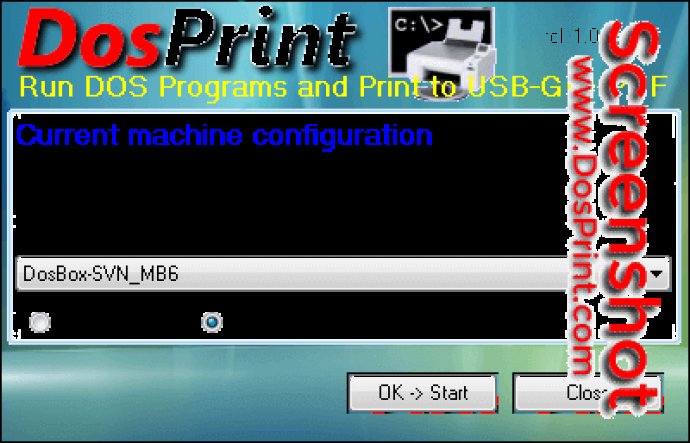 If you happen to be a person who needs or wants to run DOS programs on your modern Windows computer, DosPrint is the solution for you. This software is designed to solve the common problems associated with running DOS programs on modern computers. DosPrint allows you to print to Windows printers, including USB, GDI and PDF by installing specially designed third-party programs.

The software is capable of checking if you have a 32/64-bit Windows version automatically. If you have a 64-bit version, DosPrint runs a DOS emulator, while for 32-bit Windows, Windows itself is enough. Based on this, DosPrint identifies the appropriate programs to install. Furthermore, you can choose your preferred additions or accept what the software recommends.

After you've made your choice, click Ok, and start to allow DosPrint to download, install and automatically configure the programs you've selected. This way, you are ready to use your preferred DOS applications without any manual effort, and you don't need to learn how to configure the printers, something cumbersome that usually involves huge text files. In just a few minutes, your DOS programs are ready to go, and you can print on any printer installed in the Windows Control Panel.

DosPrint is a user-friendly, time-saving software that could come in handy if you frequently use DOS programs on your Windows computer. With just a couple of clicks, you can have DosPrint doing all the job for you, and you don't need to worry about being an expert in DOS or printers' configuration.
What's New
Version 1.3: 1. Added support for Windows 11 and Windows Server 2022 Terminal Server ;
2. If you choose the "Install/configure Printfil" option, then the newest Printfil 5.28 version is installed, that supports Win11 and Win2022 too ;
3. More news at https://www.DosPrint.com/enews.htm ;