Macromedia Dreamweaver 8 is a robust HTML web design software tailored for multimedia and database-driven content creators. It is faster, more user-friendly and feature-packed compared to its previous versions.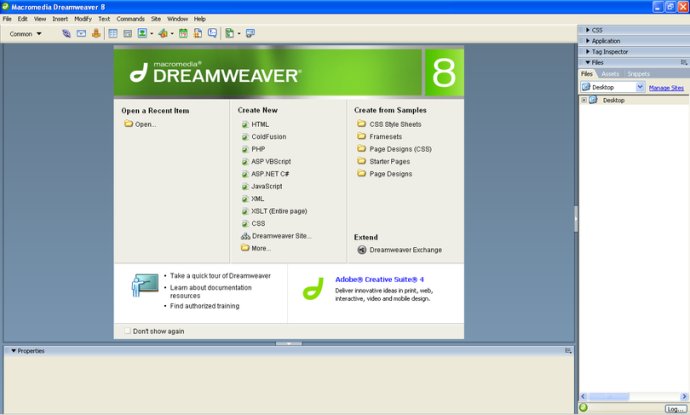 Macromedia Dreamweaver 8 boasts a user base of over 3.5 million and is recognized as the leading software in professional web authoring, much like Adobe Photoshop dominates photo-editing. The software has earned this position by leveraging a wysiwyg design environment alongside unparalleled coding power and an emphasis on the efficiency of workflow. The newest release focuses once again on these three core areas: visual design, coding, and productivity.

One notable improvement to Dreamweaver 8's wysiwyg design capability is the addition of the zoom functionality, ranging between 6% and 3600%, and the implementation of Fit All, Fit Width, and Fit Selection commands. While the importance of this feature may be overstated, it can be useful for users working on high-resolution screens and during object alignment.

Moreover, the introduction of rulers, draggable guides with tooltips to provide real-time feedback on position and distance, proves much more beneficial for accurately positioning layouts. Macromedia Dreamweaver 8 also includes preset guides for the safe visible area of browsers at various screen sizes, allowing for greater control over the display, locking, and snap settings of guides.

The software's layout and formatting mark-up language for working alongside HTML, Cascading Style Sheets (CSS), has also been updated with enhanced support, particularly in the core Design View, to perform advanced CSS techniques, including overflow handling, form elements, and pseudo-elements. Furthermore, new visual aides increase the ease of working with CSS-positioned layouts, such as the highlighting of CSS outlines, boxes, and backgrounds, backed up by new tooltips providing greater feedback.

Perhaps most impressive of all, Dreamweaver 8 introduces support for CSS media types, enabling users to switch between viewing the page on screen, handheld, or in print using a new Rendering Toolbar. The combination of these updates and quality features make Dreamweaver 8 one of the best options for professional web authoring.
What's New
Version 2018: N/A
Version 2017: N/A