This software securely wipes system files, online activities, and selected partitions from your computer's hard drive or USB drives to protect your privacy.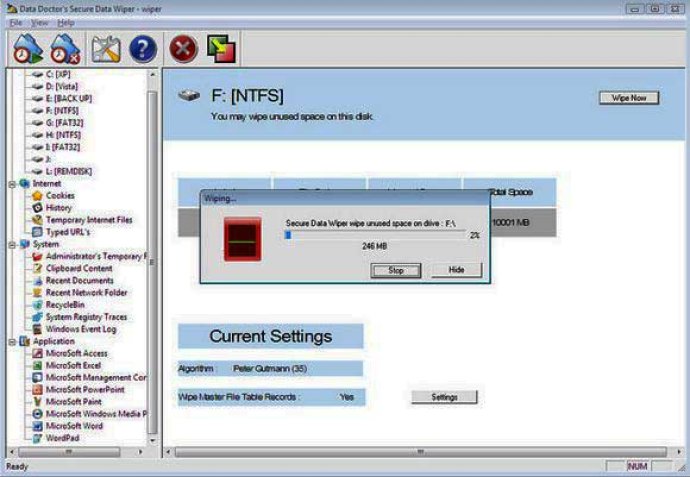 The Data Wiper Tool is an efficient tool that provides multiple disk wiping algorithms to wipe all existing or non-existing data from your computer hard disk drive or USB flash removable media drives. This secure data cleaner application offers permanent wiping of saved or unsaved data that cannot be recovered by any recovery software.

The software ensures the privacy of your computer by allowing you to wipe selected disk partition or entire hard disk drive. It cleans and permanently removes all deleted or undeleted internet activities including chats, passwords, typed URLs, administrator files, cookies, history, e-mails, net meetings, temporary internet files, etc.

The Data Wiper Software is also capable of wiping system files like recycle bin, network folder, windows event log, clipboard contents, and administrator temporary files. It offers both destructive and non-destructive wiping modes to wipe all saved and unsaved data from your hard disk drive and improve the performance of your system.

This professional data wiping tool is even capable of wiping recently used documents of Microsoft Word, PowerPoint, Excel, and Access. It has various features such as:

- Compatibility with all windows operating system like Win98, 98(SE), 2000, 2003 server, XP, NT, vista, etc.
- Ability to wipe removable media drives (thumb drive, pen drive, zip drive, USB drive), compact flash memory card, SD card, multimedia card, smart card, and all other similar devices.
- Easy to use due to user-friendly graphical user interface and systematic help manual.
- No technical skill/knowledge is required to operate data wiper tool.
- Cleans your data through overwriting with system generated random numbers.
- Reliable, works fast and easy to install.

Overall, the Data Wiper Tool is an excellent software for users who want to completely wipe the data from their system without any chance of recovery.
What's New
Version 4.0.1.5: Added supoort for destructive data wiping