Driver Booster 4 is a user-friendly and robust driver updater that quickly addresses outdated and defective drivers while also installing the most appropriate missing drivers for both device drivers and game components, all with just one click.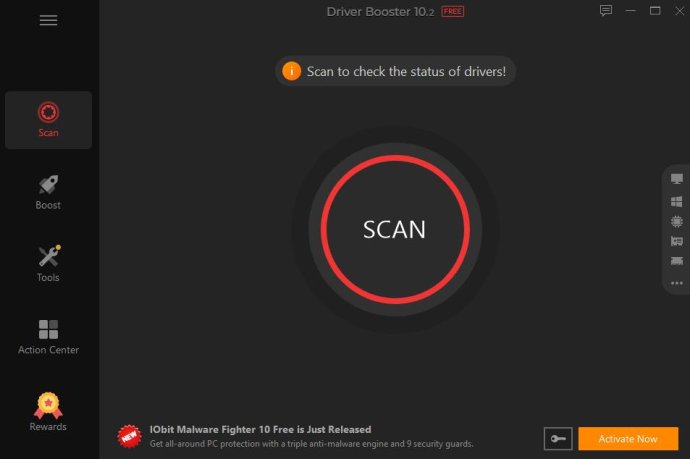 Driver Booster 4 is a driver updater that offers a powerful and easy-to-use solution to rapidly update outdated and faulty drivers, and to install the best matched missing drivers not only for your device, but also for your game components.

With a newly expanded online drivers and game components database, Driver Booster 4 can now support more than 400,000 drivers which cover over thousands of driver factory brands; even rare drivers can be accurately discovered.

Moreover, the software provides useful and powerful tools in the Toolkit to help users fix common computer problems, such as system crash, BSOD, device connection errors, audio crackling, no sound and no network issues.

With the new advanced compression technology, break-point resume technology and automatic retry mechanism, Driver Booster 4 can download drivers in a much faster and smoother way, making it a reliable choice for users who want to optimize their system performance by increasing system compatibility and stability.

The latest version of Driver Booster boasts several new features, including supporting the update of new game components such as Microsoft XNA Framework 3.0, 3.1, 4.0 and Microsoft Visual C++ 2015 Redistributable. The frequency of database updates has also been increased, ensuring that users have access to more high-qualified drivers.

The Scan Engine has been optimized for even more accurate scanning, while the Installation Engine now adds a security process to guarantee updates are safe and problem-free. The Fix Network Failure tool has been improved to get network connection issues fixed easily with higher success rates.

Driver Booster 4 has several improved interfaces for better user experience, and all known bugs have been fixed. Overall, Driver Booster 4 is a top choice for anyone looking to update their drivers with ease and optimize their system performance.
What's New
Version 4.2.0.478: + Supported the update of new game components Microsoft XNA Framework 3.0, 3.1, 4.0 and Microsoft Visual C++ 2015 Redistributable etc.
+ Increased the frequency of database updates.
+ Optimized Scan Engine for more accurate scanning.
+ Optimized interfaces of some functions for better use.