This software boosts PC performance by removing temporary files and junk while automating cleaning and memory optimization for a fast and clean experience.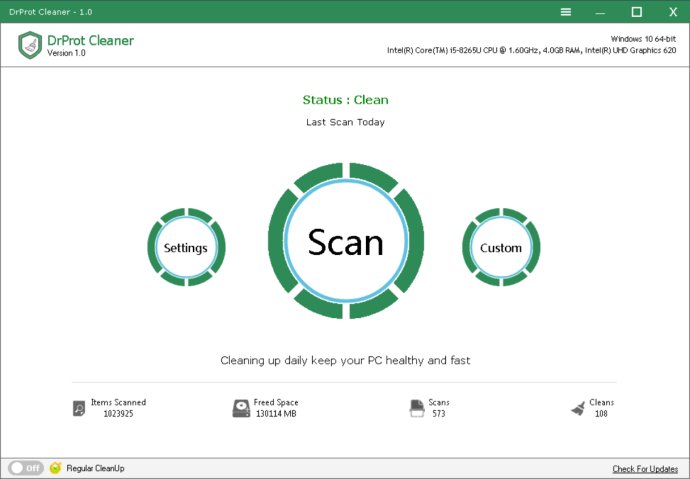 Drprot Cleaner is a software that helps you clean junk and temporary files from your PCs to optimize the performance and guarantee a fast and clean PC experience. With its automatic PC Cleaning and Memory optimizing features, you will never have to worry about your PC's speed and cleanliness again.

The one-click Scan feature provided by Drprot Cleaner is the easiest way to get rid of junk and temporary files with just one click. Additionally, there is a custom scan option that allows you to choose specific files you want to find and remove to reach more junk files. With Custom Scan, you can enjoy a more personalized cleaning experience to keep your PC as clean as possible.

Scheduled CleanUps is another feature of Drprot Cleaner that allows you to schedule auto cleanups to keep your PC clean all the time. With options such as Daily, Weekly, Monthly, On Idle and At Login, you can choose a cleanup schedule that works best for you and your PC's needs.

Drprot Cleaner also offers a Hardware Monitoring tool that shows Memory Usage, CPU Usage and CPU temperature. The monitor tool is not only useful for monitoring but helps optimizing Memory Usage by one click. It helps maintain a clean and healthy CPU for optimal performance.

In conclusion, Drprot Cleaner is a must-have software if you want to keep your PC running smoothly and fast. With its sophisticated features, it offers a fantastic and personalized experience that ensures your PC is always clean and optimized for performance.
What's New
Version 2.1: New release