This software offers tools to create short videos from long ones, with options to cut and trim videos into parts. It produces output in selected resolutions to meet users' needs.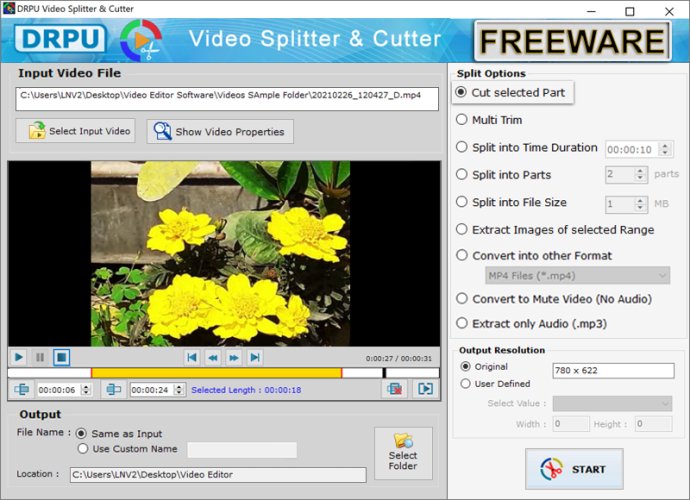 If you're looking for a video splitter and cutter application that can meet your commercial or noncommercial splitting requirements, look no further than DRPU Video Splitter. This software is incredibly simple and user-friendly, making it accessible even to those without any editing skills.

One of the best things about DRPU Video Splitter is that it provides a wide variety of split options. You can cut selected parts, use multi trim, split into time duration, split into parts, split into file size, and more, depending on your specific needs. This versatility makes it an excellent solution for projects like creating YouTube shorts or status updates for WhatsApp.

Using DRPU Video Splitter is a breeze. Simply select your video file and choose the split option that suits you best. From there, you can select the duration of the cut selected part and even choose to extract only the audio from the input video file. The software automatically saves the resulting audio file to your system after completing the video split processing.

Other features of DRPU Video Splitter include tools to trim clips with various effects, aspect ratios, and contrast/brightness adjustments. You can also take advantage of the advanced features like time duration, multi trim, split into file size, or split into parts.

One of the best aspects of DRPU Video Splitter is how efficient it is. The software executes actions quickly, saving you time on every project. Plus, it can even enhance the quality of the resulting output.

Of course, it's not just about efficiency and features. DRPU Video Splitter is free to download, and installation is compatible with Windows 10, Windows 8, and Windows 7. The software also offers the option to choose an output folder path that fits your specific needs.

If you're looking for a reliable, user-friendly video splitter and cutter application, DRPU Video Splitter is an excellent choice. With a wide variety of options and a hassle-free installation process, it's the perfect solution for anyone who needs to split and edit videos with ease.
What's New
Version 2.2: Added Support for 8K Video resolutions and single Click Batch Processing for files Folder containing Videos Movie clips.