DTAB is a user-friendly Drum Tab Editor software that enables users to import and play drum tabs from the web, export MIDI files, customize MIDI sound sets, and print formatted documents. It features MIDI playback and supports various MIDI formats.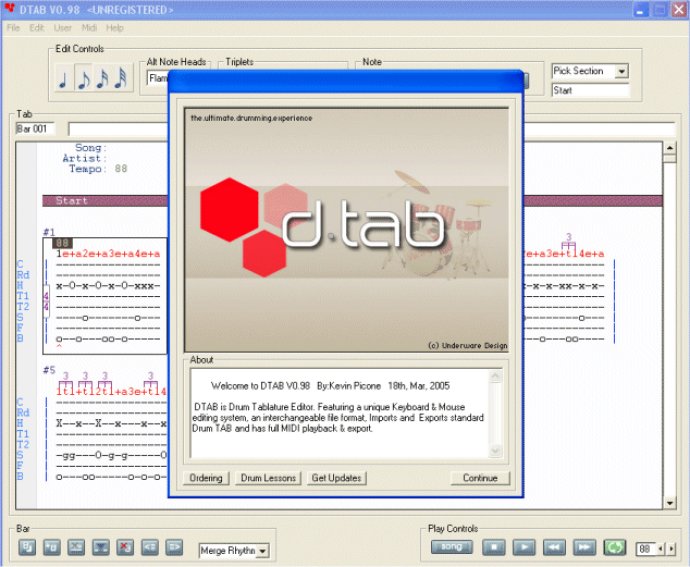 Are you a drummer looking for an easy way to import, play back, and create drum tabs? Look no further than DTAB, a powerful drum tab editing software perfect for any musician. But DTAB isn't just a simple editor - it's also an invaluable educational tool that allows users to audibly fine-tune their drum rhythms.

With DTAB, you can hear how the placement of every note changes the feel of your drum part. This alone can be a lot of fun, and the tempo controls let you work at your own pace. You can even experiment with different tempos and time signatures, freeing you from the limitations of manual tab writing.

But DTAB isn't just for drummers - it's incredibly intuitive and easy to use, even for those with little to no musical experience. Simply point and click to place notes or tap them out on your keyboard like you're playing the drum part. Many music students, from guitarists to keyboardists, use DTAB as a rhythmic aid in lieu of purchasing a drum machine. Even songwriters use it to quickly flesh out drum parts.

DTAB was built by a drummer for all musicians, making it a must-have addition to any musician's software arsenal.
What's New
Version 1.04: Dtab V1.04 includes more drum tab importing update ( DTAB script, Drum Tab Downloader) as well as documentation and various bug updates