The software scans Outlook mailboxes for duplicate attachments and generates a report with information on their number, location and size. It's a free tool to help users manage their email attachments more efficiently.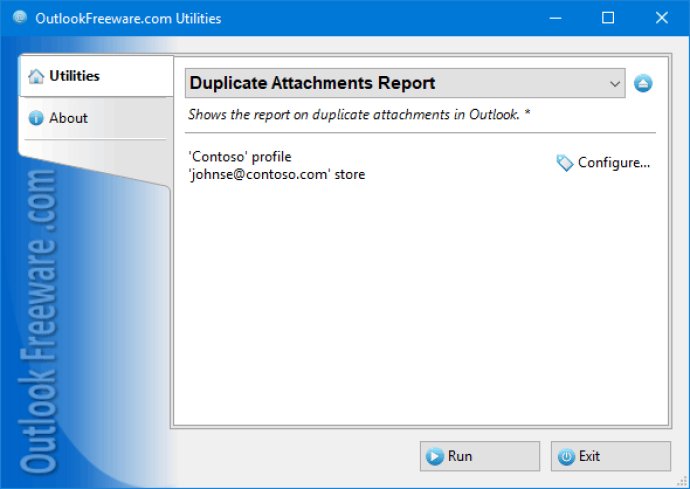 This software review is about a free report that checks for identical attachments, or duplicate attachments, within Outlook mailboxes. After verification, the user receives a detailed report that indicates the number of duplicate attachments, their location, and size. With this information, users can easily locate and delete any duplicate attachments using the software tools.

Duplicate attachments can take up a significant amount of space in email mailboxes, leading to costly data storage expenses. This report helps users estimate the space occupied by redundant data and optimize their mailbox for better efficiency. Furthermore, duplicate files can have different names, causing confusion and loss of productivity.

This utility compares the contents of attachments in email messages and other Outlook items, generating a detailed report that can be saved in a CSV spreadsheet file, copied, and opened in other programs. The program is easy to install and use - users only need to select the Outlook folders to search, specify the desired Outlook item types, and run the program. The report allows for file masks to be used to search for specific documents, such as *.doc, and date ranges can be specified as well.

This software is a unique utility that addresses the problem of wasted free space in Outlook mailboxes and PST data files. It is part of a comprehensive solution for optimizing free space in Outlook. Thanks to the support of the command line, centralized control of unneeded files in user mailboxes and Exchange Server public folders can be provided.

Overall, this free report is an excellent tool for improving the efficiency and productivity of Outlook users by helping identify and remove unnecessary duplicate attachments.
What's New
Version 4.20: New features and enhancements.