MP3 to CD Converter is a CD-burning program that converts MP3 music collections into conventional Audio CDs. The resulting Audio CDs are suitable for playback using home Hi-Fi or car CD players.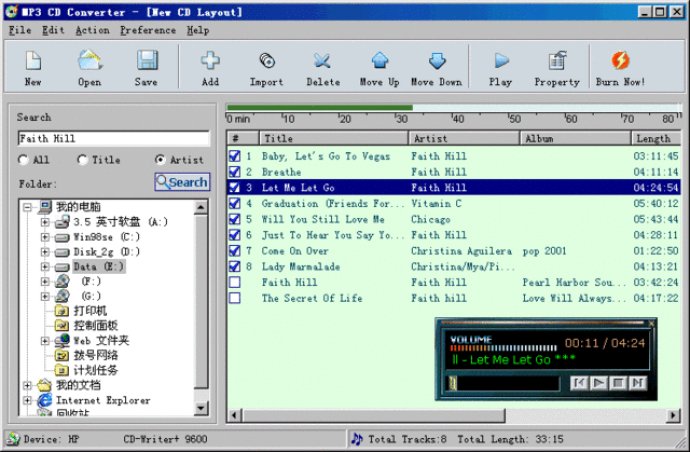 Are you looking for a CD-burning software that can help you create normal audio CDs from your favorite MP3 files? Look no further than MP3 to CD Converter! With this hip software, you can easily create custom CDs that can be played in your regular stereo or car CD player.

With MP3 to CD Converter, the options for creating custom CDs are virtually limitless. Make mixes for your next party or create road trip tunes for your next adventure. You can even make personalized gifts for your friends! Plus, with the ability to customize the CD cover, you can make your CDs truly your own.

But the benefits of MP3 to CD Converter don't stop there. This software also comes with a range of powerful features to help you create the perfect audio CDs. With on-the-fly burning capabilities, no additional temporary disc space is required, making the process quick and efficient. Plus, the software includes a normalizing function to ensure all tracks in the target Audio CD have the same volume level.

Importing audio tracks from several Audio CDs is a breeze with MP3 to CD Converter, and the decoding quality is perfect every time. With a powerful search function, you can easily locate the MP3 files on your local disc. The built-in mini player is also a nice touch, helping you preview and select the tracks you want to include on your CD.

Burn Audio CD in Disc-At-Once mode with support for most CD Writers, as well as ID3v1 and ID3v2 tag support and Freedb services, MP3 to CD Converter is incredibly easy to use. The intuitive user interface and drag-and-drop feature make custom CD creation a breeze, even for users with little experience.

Overall, MP3 to CD Converter is a powerful and easy-to-use software that provides everything you need to create custom audio CDs from your favorite MP3 files. Whether you're a music lover, DJ, or just looking to make personalized gifts for your friends, MP3 to CD Converter is the perfect tool for the job.
What's New
Version 2.1.0: N/A