EditiX is a cross-platform XML editor and XSLT debugger, ideal for web writers and application designers to incorporate the latest XML and XML-related technologies such as XSLT / FO, DocBook and XSD Schemas, available on Windows, Linux, and Mac OS X operating systems.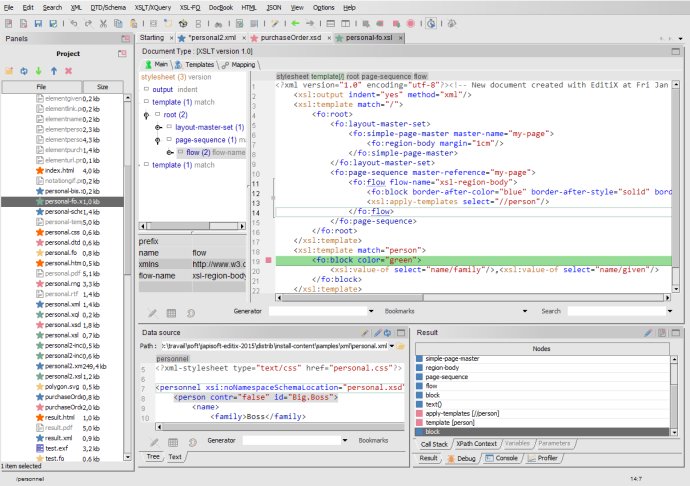 If you're looking for a software program that makes editing and debugging XML and XSLT documents a breeze, EditiX is the tool for you. With cross-platform compatibility across Windows, Linux, and Mac OS X, this program offers a wide range of features that streamline the editing process. One of its most notable features is its intelligent entry helpers, which make it easy to quickly create valid XML and XSLT code.

Real-time XPath location and error detection is also included, allowing you to quickly identify and correct any issues that arise. EditiX also supports a variety of XML-related technologies, including DocBook and XSD Schema. This makes it an ideal tool for professionals who work with a wide range of XML formats and schemas.

In addition to these features, EditiX also offers project management capabilities, so you can easily organize and manage multiple documents at once. It supports multiple templates, making it easier to apply XSLT or FO transformations to your XML files. The program also includes shortcuts for managing the process, allowing you to work more efficiently and effectively.

Finally, EditiX works with OASIS XML Catalogs and comes equipped with default templates for different XML formats, making it a versatile tool that can be customized to meet your specific needs. Overall, if you're in the market for an XML and XSLT editor that offers a wide range of features and cross-platform compatibility, EditiX is definitely worth considering.
What's New
Version 2023: N/A