Egyptian Pai Gow Poker is a vibrant card game with impressive graphics and a unique theme. Two Egyptian girls invite players to join in this tranquil atmosphere, offering an exciting and colorful experience.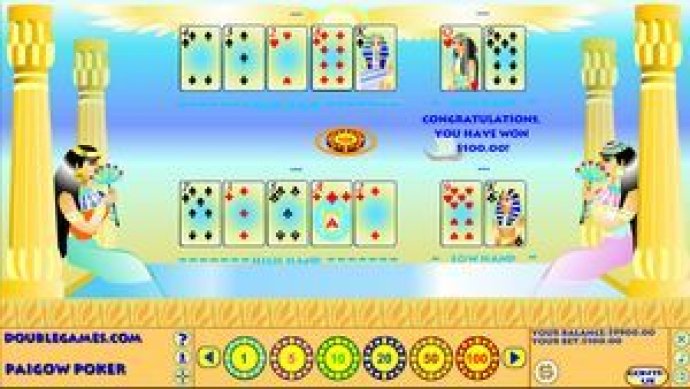 If you're looking for a fascinating and engaging card game, then look no further than Egyptian Pai Gow Poker. This innovative software acquaints the players with two attractive girls from Egypt who are enjoying themselves in a pool despite the heat.

As you immerse yourself in the atmosphere of the game, you'll hear light music pouring around you, and you'll have an opportunity to appreciate the stunning views of a vast Nile, boats, and flowers. You'll feel like you're in the middle of a dreamy conversation, which makes the game more entertaining.

The girls will propose that you play Egyptian Pai Gow Poker with them. And why not? You'll agree without hesitation and be carried away by the colorful graphics, engaging gameplay, and unexpected theme of the game.

The layout features an innovative design that is both attractive and user-friendly. The cards are easy to read, and the colorful types add to the game's excitement.

Overall, Egyptian Pai Gow Poker is an enjoyable game that will keep you entertained for hours. If you're looking for a way to unwind and have some fun, then this is the perfect choice. Whether you're an avid poker player or just looking for a new game to try, this software is a must-have!
What's New
Version 1.0: N/A