Decrypt and access WhatsApp chats with ease using our software. With support for both Android and iOS devices, it retrieves the data from various sources, displays contact information, messages, call history, and media. All of this is done automatically.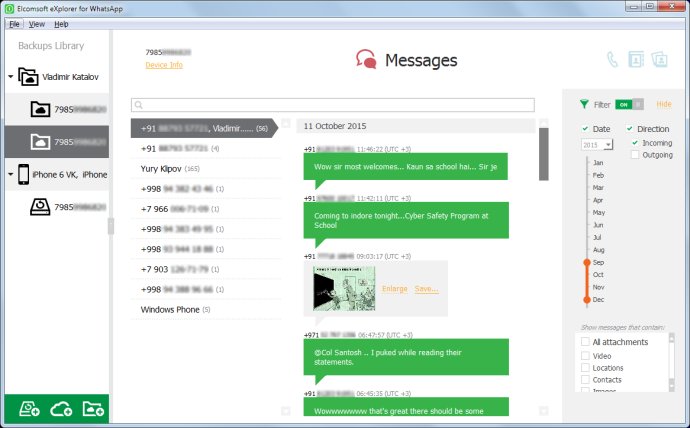 If you're in need of a tool for extracting and analyzing WhatsApp communication histories, Elcomsoft Explorer for WhatsApp might be just what you're looking for. This software is designed to acquire WhatsApp databases from various sources, including physical devices and local and cloud backups. It can decrypt information automatically, displaying contacts, messages, call history, and pictures sent and received.

Elcomsoft Explorer for WhatsApp offers multiple acquisition options, depending on the type of device. This tool is compatible with Android smartphones with and without root access, iTunes backups requiring a password, iCloud backups for iPhone devices requiring an Apple ID and password, and WhatsApp proprietary cloud backups stored in Google Drive and iCloud Drive.

If you're attempting to access cloud backups, this tool can automatically extract WhatsApp databases from multiple devices registered to the same Apple ID. In addition, Elcomsoft Explorer for WhatsApp can access proprietary WhatsApp backups maintained in Google Drive and iCloud Drive. You may find multiple WhatsApp backups available if several accounts are tied to different phone numbers.

If you encounter an encrypted backup, this software has the ability to automatically decrypt WhatsApp information. It all comes down to having the correct password required for the decryption process. You can view, search, and filter extracted WhatsApp databases with ease. With a built-in viewer, you can easily view the content of multiple WhatsApp databases. Additionally, advanced searching and filtering make it easy to locate specific contacts or messages by entering a keyword or by locating conversations within a certain date range.
What's New
Version 2.80.39025: fixed backup decryption problems for some WhatsApp versions