This software allows you to manage and compare email address lists. You can delete items that contain certain text, remove blank entries and duplicates, and compare two lists to keep matches.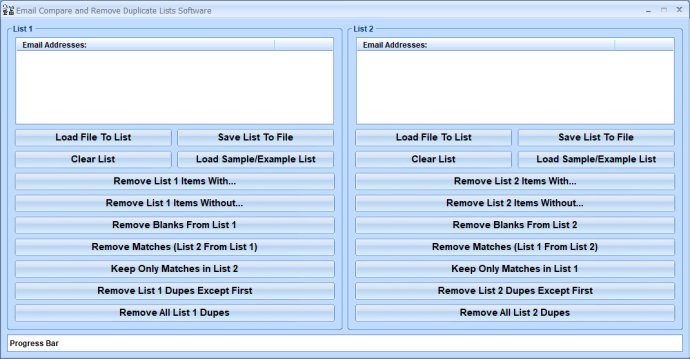 The email list management software reviewed here provides an ideal solution for users who want to efficiently manage their email lists. The software is equipped with several methods for comparing and removing addresses.

One feature of the software is the ability to remove list items that either contain or don't contain certain text. This feature helps to refine lists by removing any unwanted entries. Additionally, the software provides a capability to remove blank entries, making it easier to work with accurately populated email lists.

Another valuable option in this software is the ability to remove duplicates. This feature allows users to streamline their lists by eliminating duplicate entries.

A further highlighting attribute of the software is the facility to load two separate lists and then compare them with each other. This capability helps to keep matches and subtract one list from the other. This feature streamlines and optimizes the process of reconciling multiple lists.

Overall, this software is an efficient and valuable tool for users who want to work with their email lists in a more targeted and streamlined manner.
What's New
Version 7.0: N/A