This structural engineering software employs Finite Element Method (FEM) for plane truss analysis. With 2 DOFs per Node, it offers an intuitive user interface for pre- and post-processing, ensuring speed and efficiency.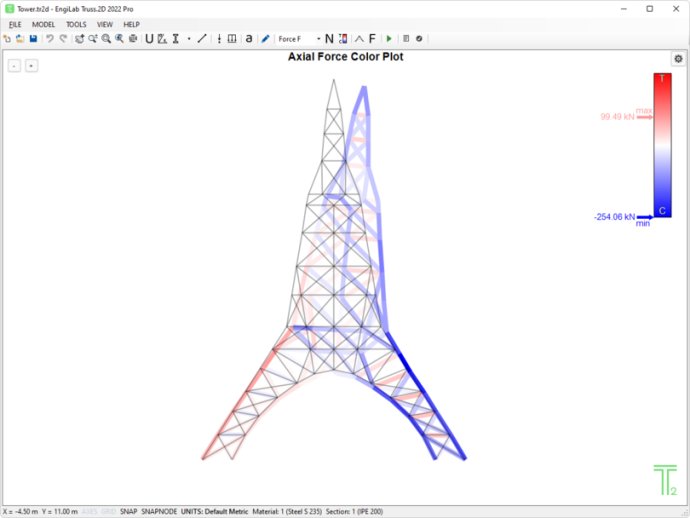 EngiLab Truss.2D is a powerful software designed to analyze the linear statics of 2D trusses for Windows. With its user-friendly interface, it provides an intuitive experience for pre-processing and post-processing of the results, resulting in a faster and more efficient workflow.

The software uses the Finite Element Method (FEM) for analysis, with 2 DOFs per Node (DX, DY), supporting all major unit systems - Metric, Imperial US, Consistent. Users can also define custom units for any quantity. It supports various types of loads, including Nodal Loads, Uniform Loads, and body (acceleration) inertial loads, where even the distributed loads are handled as equivalent Nodal Loads, applied on the joints of the model. To add more, it supports any type of constraints and springs.

EngiLab Truss.2D has a built-in Section Properties Calculator for most standard sections, where DXF drawing files can be easily imported as Models. It reports Node Displacements (DX, DY, DTotal), Support Reactions (FX, FY, FTotal), Element Results (Force, Stress, Strain, Elongation, Strain Energy), and performs basic code checks against Yielding (Stress) and Buckling. The software does a stress check for all members and a buckling check for compressive members.

The software can also export all analysis results as a report to an RTF document for easy processing with a word processor. The program can generate drawings for Model Deformation, Free Body Diagrams, Axial Force / Stress / Strain Diagrams, and Color Plots. Each member has its color according to the value of its Force, Stress or Strain. Red color indicates Tension while blue for compression. There is also automatic scaling for optimal viewing available.

EngiLab Truss.2D doesn't merely rely on its analysis results. It validates them using principles of mechanics by verifying the Global Equilibrium, Energy Conservation, Joints Equilibrium, and Elements Equilibrium using a validation procedure. Validation results are presented to the user in tables. Ultimately, EngiLab Truss.2D is a smart choice for anyone searching for a reliable and robust Truss Analysis software.
What's New
Version 1.1: First release
Version 1.0: First release