Enterprise Cloud WiFi System is a user management platform for WiFi with a captive portal, AAA Radius, database, virtual controller server, and intelligent WiFi system. It can be deployed on your server or virtual machines to manage your WiFi network.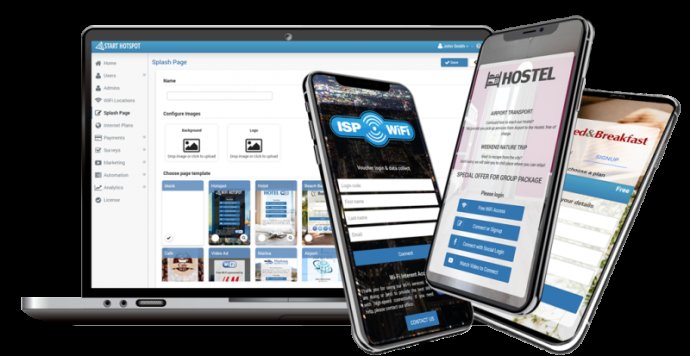 The ENTERPRISE CLOUD WIFI SYSTEM is a comprehensive platform that offers WiFi user management and can be easily deployed on server or Virtual Machines. It comprises of several components, such as Captive portal, AAA Radius, database, Virtual Controller server, and creates a sophisticated Intelligent WiFi system.

With the deployment of the Cloud WiFi System, you can host and manage server infrastructure, either on-site or in a dedicated cloud environment. The system is designed to be scalable and can be expanded on multiple servers to accommodate an increasing number of Access Points and users. Moreover, it is possible to deploy the system on one or many virtual machines that are situated in the cloud or data centers of your choice.

The best part about the ENTERPRISE CLOUD WIFI SYSTEM is that it offers WiFi access within your organization while ensuring the security and privacy of your customer data on your servers and network. This system opens up a world of possibilities that connect different devices to create an intelligent WiFi network.

The CLOUD WIFI system provides centralized device management, WiFi network control, and access method settings that enable you to update guest accounts and generate extraordinary analytics and reports. The network expansion process is also seamless, thus allowing you to connect multiple devices with ease.

With CLOUD WIFI, you can monitor your customer's behaviors, analyze demographics, and habits to display location-based ads and develop fully-featured Email marketing campaigns that target your customers based on age group, gender, and interests.

The ENTERPRISE CLOUD WIFI SYSTEM offers advanced WiFi network control and reliable connections to all users, making it an ideal solution for businesses of all sizes. So, if you are looking for a WiFi management platform that offers top-notch features, then the CLOUD WIFI system is the way to go.
What's New
Version 2.13.0: Multy location support, high availability, scalability, multilogin, autologin, bandwdith control, Social login, Email Campaigns with scheduled sending, Credit Card billing, Verification via SMS and Email, Splash pages with multiple login methods,Video Ads,Send SMS using Twilio,reviews on TripAdvisor
Version 2.13: Multy location support, high availability, scalability, multilogin, autologin, bandwdith control, Social login, Email Campaigns with scheduled sending, Credit Card billing, Verification via SMS and Email, Splash pages with multiple login methods,Video Ads,Send SMS using Twilio,reviews on TripAdvisor
Version 2.0.0.3: Multy location support, high availability, scalability, multilogin, autologin, bandwdith control, Social login, Email Campaigns with scheduled sending, Credit Card billing, Verification via SMS and Email, Splash pages with multiple login methods,Video Ads,Send SMS using Twilio,reviews on TripAdvisor
Version 2.0.0.2: Multy location support, high availability, scalability, multilogin, autologin, bandwdith control, Social login, Email Campaigns with scheduled sending, Credit Card billing, Verification via SMS and Email, Splash pages with multiple login methods,Video Ads,Send SMS using Twilio,reviews on TripAdvisor
Version 2.0.0.1: Multy location support, high availability, scalability, multilogin, autologin, bandwdith control, Social login, Email Campaigns with scheduled sending, Credit Card billing, Verification via SMS and Email, Splash pages with multiple login methods,Video Ads,Send SMS using Twilio,reviews on TripAdvisor
Version 2.0.0: Multy location support, high availability, scalability, multilogin, autologin, bandwdith control, Social login, Email Campaigns with scheduled sending, Credit Card billing, Verification via SMS and Email, Splash pages with multiple login methods,Video Ads,Send SMS using Twilio,reviews on TripAdvisor
Version 2.0: Multy location support, high availability, scalability, multilogin, autologin, bandwdith control, Social login, Email Campaigns with scheduled sending, Credit Card billing, Verification via SMS and Email, Splash pages with multiple login methods,Video Ads,Send SMS using Twilio,reviews on TripAdvisor