EpubCloud hosts EPUB books on AWS cloud storage and enables user uploads. The software comes with mobile and desktop clients, and offers various features based on the plan selected.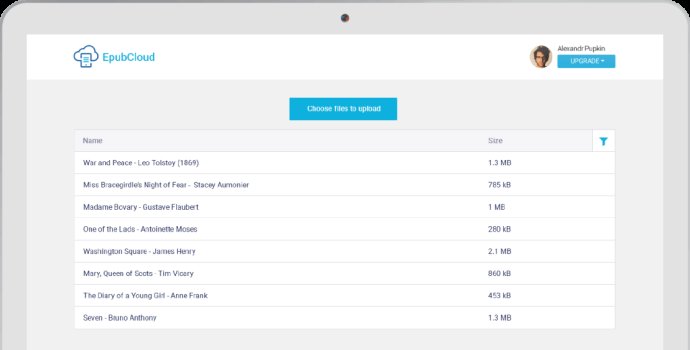 EpubCloud is a cutting-edge software that seamlessly brings together the power of Cloud Storage and EPUB Reader. It offers a user-friendly platform that allows users to host, store, and share their EPUB files. And the best part? You can access your books from anywhere and any device, be it your desktop or your mobile.

EpubCloud provides a robust Cloud Storage service that allows users to host their EPUB books on AWS. The software also has provisions for uploading your own EPUB files, making it even more convenient for you. With an array of additional features based on your plan, EpubCloud has something for everyone. It supports DRM protection, integrates with corporate services, and provides custom billing options to meet your unique requirements.

Overall, EpubCloud is a reliable and efficient software that ensures seamless access to your favorite EPUB books. It's packed with a host of incredible features that make reading EPUB files a breeze. So, if you're searching for a comprehensive and feature-rich EPUB Reader, EpubCloud is certainly worth a try!
What's New
Version 1.0.4: Social network authentication, Storage, Reader availability, Library maintenance and an administration portal, Permissions, book uploads, per-user/per-device permissions support, DRM management, Real-time billing reports
Version 1.0.3: Social network authentication, Storage, Reader availability, Library maintenance and an administration portal, Permissions, book uploads, per-user/per-device permissions support, DRM management, Real-time billing reports
Version 1.0.2: Social network authentication, Storage, Reader availability, Library maintenance and an administration portal, Permissions, book uploads, per-user/per-device permissions support, DRM management, Real-time billing reports