Create Sankey diagrams with ease using our software tool. Display material flows, energy, and costs in process systems. Ideal for process engineers, energy management, logistics, water, waste, and quality professionals. Visualize flow quantities and streamline your presentations.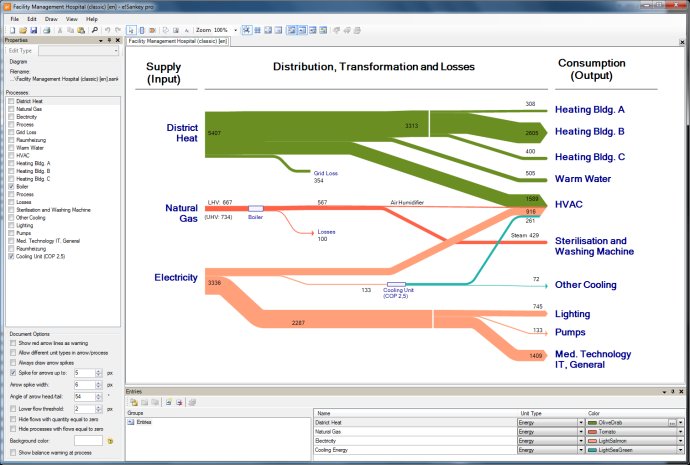 e!Sankey is a must-have tool for anyone who wants to create Sankey diagrams quickly and easily. Sankey diagrams are directional flow charts that help visualize material flows, energy efficiency, or costs, making them a valuable tool for professionals in quality management, logistics, finance, and many other fields. With e!Sankey, you can produce high-quality Sankey diagrams that are perfectly tailored to your specific needs.

The graphical editor in e!Sankey comes packed with features that make creating Sankey diagrams a breeze. You can use process (node), arrows, labels, and other graphical elements such as rectangles, rounded rectangles, ellipses, lines, legends, text, and images. There are also plenty of editor options such as a grid and snap to grid, legend, and scale. The software also enables multi-element edit, allowing you to modify several elements in your diagram simultaneously.

e!Sankey lets you easily manage your processes/nodes by dragging and resizing, using images, the clipart gallery, editing or hiding process labels, and hiding nodes. You can also draw arrows by directly connecting processes, reconnect them, add one or more flows to the arrow, enter a quantity, choose a color, edit arrow labels with flow name and quantity, add arrow bending points, stacked arrows, change stacking order, and use numerous arrow options such as rounded, orthogonal bends, arrow head, arrow tail, and perimeter line.

The software's unit management feature lets you manage various unit types, each with its own color palette and number format. You can also scale flows either to max flow or absolute value per unit type using a slider. The print and export diagrams feature enables you to easily share and present your Sankey diagrams with others in various file formats such as jpg, bmp, png, gif, and emf.

e!Sankey's floating, dockable, and tabbed windows make it easy to navigate through the software's many features, and the update notifier ensures that you always have the latest version.

In conclusion, e!Sankey is a powerful and easy-to-use tool for creating Sankey diagrams, a must-have for anyone who wants to visualize material flows, energy efficiency, or costs. Visit the website for a full list of features and download a trial version today. The maker, ifu Hamburg GmbH, is well-respected and also the developer of Umberto, the leading tool for material flow analysis.
What's New
Version 4.0: New 4.5 version with many new features.