eSoftTools EML to Office 365 converter tool offers smart and complete conversion, enabling users to convert EML to Office 365 including the details of EML files.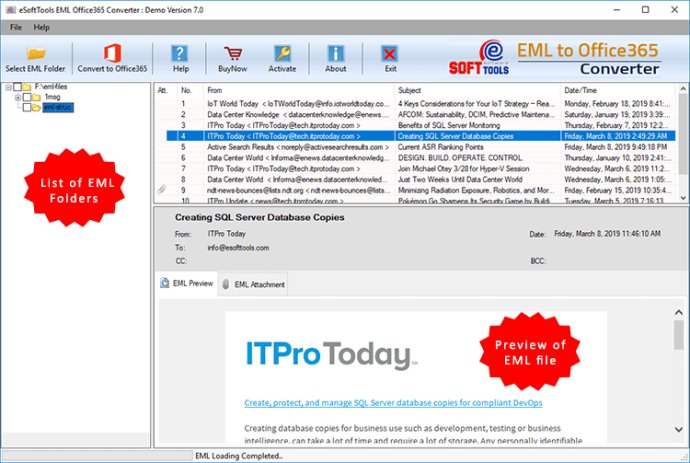 If you are looking for a perfect tool to handle corrupted EML files or facing issues with opening them, then you must try eSoftTools EML to Office 365 Converter. This software is one of the best email recovery and conversion tools available in the market today. It is specifically designed to cater to the needs of users who want to export their EML files to Office 365.

eSoftTools EML to Office 365 Converter provides a rare combination of perfection and efficiency when it comes to the conversion of EML file/folders. The software is compatible with all major EML clients such as MS Outlook, Apple Mails, Thunderbird, IncrediMail, Microsoft Entourage versions and Office 365 cloud.

The best features of eSoftTools EML to Office 365 Conversion are as follows:

- Import EML to Office 365 with all emails and folders
- Support for all major email clients
- Support for both EML and EMLX file extensions
- No size limitation in the conversion process
- Ability to add single or bulk EML files for conversion to Office 365
- Live preview of recovered EML files and quick response to export them to Office 365
- Ability to restore and manage all EML properties such as attachments, contacts, images, text, hyperlink and other useful information of EML file.

If you want to try out the software before purchasing it, eSoftTools EML to Office 365 Converter provides a free demo version that is capable of converting up to 30 files or folders. Once you are satisfied with the conversion process, you can buy the software at a discounted price from the official website of eSoftTools.

Overall, if you are searching for a reliable and efficient software to handle your EML files, eSoftTools EML to Office 365 Converter is definitely worth considering.
What's New
Version 7.0: eSoftTools EML to Office 365 converter software smartly convert EML to Office 365 file and folder