EssentialPIM Pro Portable is a portable personal information manager that allows easy management of appointments, to-do lists, notes, email messages, password entries and contacts. The application uses intuitive tools and works straight from USB flash drives.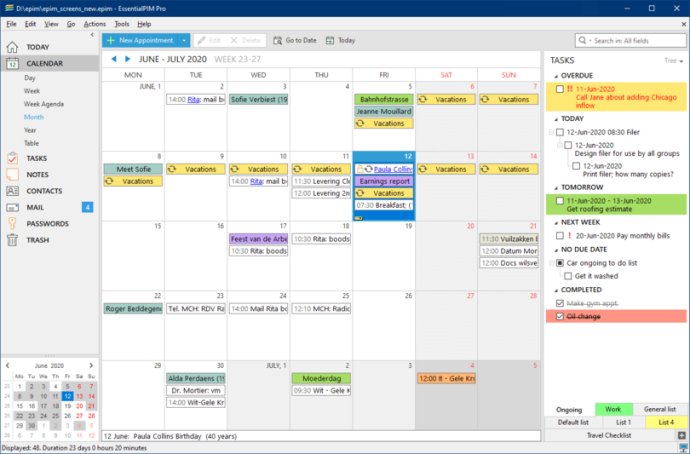 EssentialPIM Pro Portable is a must-have personal information manager for anyone who wants to keep track of their daily schedule effortlessly. This fantastic software streamlines your appointments, to-do lists, notes, passwords, and contacts, making it easy to manage everything from one centralized location.

One of the best things about EssentialPIM Pro Portable is its portability feature. You can quickly transfer all your information from your desktop to your USB flash drive and access it anywhere, at any time. Not only that, but the program also boasts an impressive speed that allows you to work efficiently without any lags.

Moreover, EssentialPIM Pro Portable offers an intuitive interface that is easy to navigate even for beginners. With just a few clicks, you can access all your essential information without any hassle. Also, you can sync all your data with Outlook and practically any online service available such as Google, Yahoo, etc. This ensures that you stay updated with your schedule regardless of which device you are using.

In conclusion, EssentialPIM Pro Portable is undoubtedly a powerful personal information manager software that has all the necessary features to help you manage your life effectively. With its impressive performance and portability, you can be sure to stay on top of your schedule with ease.
What's New
Version 9.0: - Dark theme
- Colorful tags and ability to assign individual shortcuts to them
- Anchors in notes
- Mail rules significantly extended - new actions
- New type of a custom field for contacts and tasks – Check box
- Ability to print from Tags Explorer
- Improved Insert Symbol dialog in notes
Version 8.56: - Improved synchronization with iCloud
- Calendar appointments can now be edited directly again (without opening the appointment window)
- Better synchronization with Google Calendar (for recurring events)
- Other minor bug fixes and stability improvements
Version 8.55: - Better integration with Dropbox
- EPIM Today UI improvements
- Couple of minor fixes in synchronization with Google
- Improvements with Android synchronization
- Inability to delete text in notes in rare circumstances
- Send e-mail option now works for any types of contacts
- Other fixes
Version 8.52: - Improved synchronization of dates with Google Tasks
- Faster search in table views in different modules
- Synchronization of child notes with Android fixed
- Improved links formatting for passwords
- Copy-paste of bulleted lists in the notes field will work correctly
Version 8.12: - Quickly add mail folders to EPIM Today by right clicking on them in Mail
- Optimized exporting of emails into PDF
- Improved synchronization with iCloud, Google Calendar and Google Tasks
- Much better scaling of email messages for high resolution monitors
- Improved operation in offline mode
Version 8.1: - Database Management window shows more information about size of data stored
- It is now possible to use bullets/numbered lists in notes field of any module
- Improved filtering on tags
- Offline mode is now a property of database, not EPIM instance
- Copy-pasting tags now works better
Version 8.04: - Made improvements related to working with Gmail and Outlook.com mail accounts
- Other bug fixes and stability improvements
Version 8.02: Tooltips and copy-paste functionality are back for tags
Ability to search for tags in the Select Tags dialog window
Select Tags window can now be changed in size, it also remembers its last position on the screen
Improvements in synchronization with Google services (Calendar and Tasks)
Version 8.01: Improved linking of items and their availability under the related items tab
Due date for tasks should be working as expected in all cases now
Fixed issue with EssentialPIM sometimes starting outside monitor borders
Couple of tweaks regarding adaptive spam filtering mechanism
Version 8.0: It is now possible to delete any EssentialPIM item (appointment/contact/password entry, etc.) while having it open
Tags explorer is a new powerful way to see all items that are tagged
Search inside notes of each item (Ctrl+F)
Copy text from read-only records