eWay-CRM is a versatile CRM software available on multiple platforms including Outlook, Android, and iOS. It offers efficient management of customers, deals, projects, and mail merges, along with workflow automation to run your business effectively. Sharing your Outlook with your team is made easy with eWay-CRM.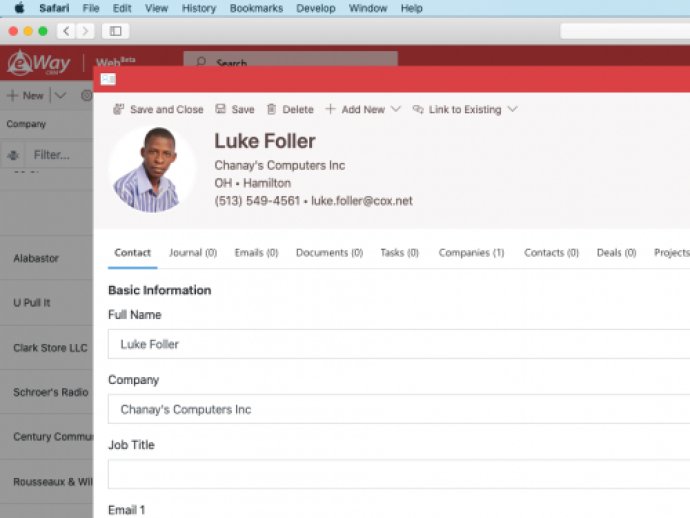 Are you tired of switching between multiple applications to manage your customers, deals, projects and mail merges? Look no further than eWay-CRM - the best CRM integration for Outlook, now available on iOS / Android and as an online app.

With its amazing integration with Outlook, eWay-CRM turns your Outlook into professional CRM software. Work within a familiar environment, and integrate emails, calendar, tasks and contacts. This means your staff can get familiar with CRM without additional training.

Take data on the go with the eWay-CRM iOS / Android apps. Access your database, make notes, attach photos and set up reminders all from your smartphone. And if you prefer a web-based solution, use eWay-CRM Web to access your data from any device.

With eWay-CRM, you can manage your company agenda in one place through Outlook. Keep track of communication history, attach documents, plan follow-ups, and send bulk emails. Monitor your pipeline, and get reminders when necessary.

In addition, eWay-CRM allows for data sharing. Share your Outlook with other team members, and all saved data will be instantly available for everyone's access. The auto-tracking feature ensures that all incoming and outgoing emails are automatically saved and organized by contacts or projects.

Fully customizable, eWay-CRM can be tailored to your specific needs. Create grid reports, utilize advanced filter editors, save user views for later use, and design your own forms. Customize workflows and set up user permissions using the built-in administration app.

Overall, eWay-CRM is a robust and convenient CRM solution that allows you to manage all aspects of your business in one place, without sacrificing productivity or familiarity.
What's New
Version 7.4.0: eWay-CRM 365: Save Emails from Outlook Mobile, Mac, and Online
eWay-CRM 365: Save Emails to Multiple Projects, Deals, Tasks, Journals, and more
Web: Complete Emails including Attachments
Web: Import contacts from Microsoft 365