The corporate barcode label maker software enables users to create linear or 2D barcode fonts for labeling on business products, while also including an email setting feature to send designed barcode labels to a specific email address.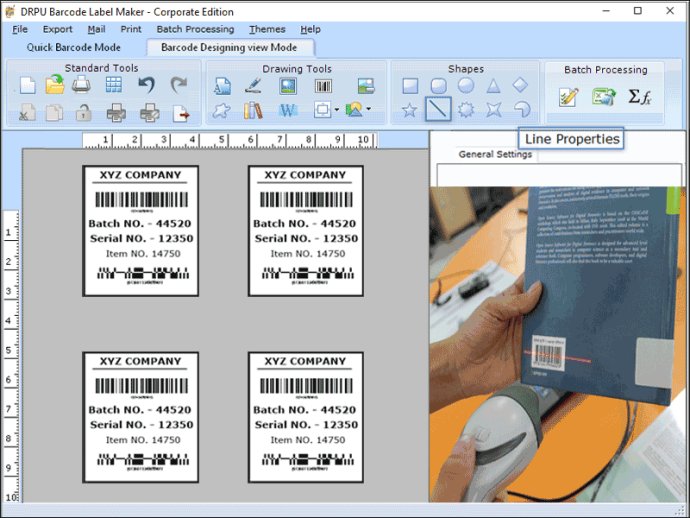 The Excel Bulk Barcode Label Maker Software is a valuable tool for creating multiple corporate barcode labels with different barcode texts and values. One of the most advantageous features of this software is the batch processing series option, which supports excel, notepad, as well as manual input file formats. With this feature, users can quickly and easily create a series of barcode labels in one simple step.

Additionally, the software offers two separate modes: Quick Barcode Mode and Barcode Designing View Mode. Quick Barcode Mode requires users to fill in necessary details like header, footer, and barcode value, resulting in a barcode label in just a few steps. Barcode Designing View Mode allows the user to create and customize their unique barcode according to their specific requirements, making it even easier to create the perfect barcode.

Furthermore, the software offers a created series option, which quickly builds multiple barcode labels using a random, sequential, or constant number. Signature and watermark options also add extra uniqueness to the barcode.

After designing the perfect barcode, the software exports the corporate barcode label as an image or PDF file format, making sharing and printing effortless. Other notable features include advanced design tools, the ability to import and export lists of barcodes, support for multiple image file formats, and compatibility with all barcode fonts used in linear or 2D barcode.

In conclusion, Excel Bulk Barcode Label Maker is a must-have software for anyone needing to create multiple barcode labels with various barcode texts or values. It supports a range of features for customization and is fully compatible with all Window versions, including Window 11, 10, 8, and 7.
What's New
Version 9.2.3.1: Added Support for Latest Windows 11 OS Updates. Added Support for High DPI resolutions Compatibility. Added new Barcode Technologies. Added additional Batch Processing Features to import Data from Excel Sheets.