The Windows Label maker software imports data from databases to generate barcodes, which can be printed using standard or roll printers. Two modes, Quick and Designing, allow for easy and customizable label creation.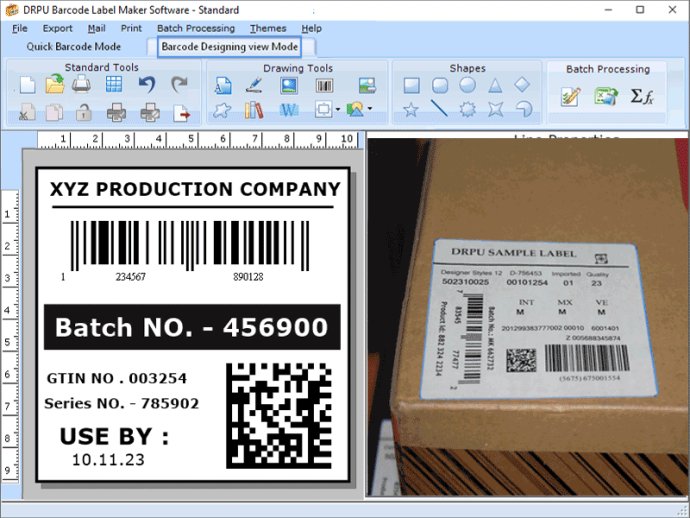 The Bulk Barcode Labeling Application is a fantastic tool for enhancing your organization's productivity and growth. This software allows generated Barcode Labels to be used in various Windows applications such as MS Word, Excel, and Paint.

Creating your own barcode labels with Barcode Labeling Application is simple and easy. First, create a new barcode label by clicking on the "new" option in either quick barcode mode or barcode designing view mode. Then, you can change various details such as the barcode value, header and footer text, number of symbols, error correction level, and header and footer alignment.

Customization is also a breeze with this software. You can customize the barcode labels with various fonts, colors, shapes, gradients, and other design elements. To modify the design of standard barcode labels, you can use various designing tools like text, signatures, pictures, custom shapes, label background, watermarks, and more.

With the Batch Processing Series feature, it's possible to create multiple copies of the labels with different barcodes and text values, which can save considerable time. To generate bulk barcode labels, all that's needed is to create a new Excel file or text file containing different barcodes and text values and import it into the current data sheet.

Saving the customized standard barcode label images in various file formats such as jpeg, tiff, bitmap, PNG, WMF, EMF, EXIF, and gif is also effortless. And with the advanced print option provided by the software, multiple barcode labels can be printed simultaneously onto a single sheet of paper, saving time and resources.

This software shines in its feature-packed functionality. Some of the highlighted features include creating barcode labels in linear and 2d barcode font standards, generating multiple barcode labels with the help of random, sequential, and constant value series generating options, and supporting various file formats to save barcode label images. All in all, if you're looking for an efficient and comprehensive barcode labeling software, Bulk Barcode Labeling Application is an excellent choice.
What's New
Version 9.2.3.1: Added Support for Latest Windows 11 OS Updates. Added Support for High DPI resolutions Compatibility. Added new Barcode Technologies. Added additional Batch Processing Features to import Data from Excel Sheets.