The Barcode Label Program produces customizable book labels, price tags, and library cards in various shapes and sizes that meet publishing industry standards. Barcode labels can also be integrated into various Windows applications, including MS Word, Excel, and Paint.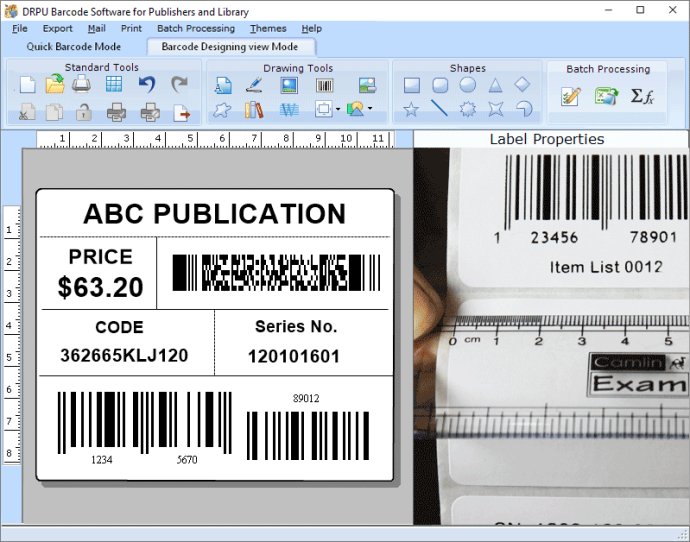 Barcode Label Making Software is a practical tool for those working in the library and publishing industries, specifically for tracking and managing book and magazine records. The program has the option of using a general printer or a barcode printer to produce customized barcode labels. Additionally, the software offers a print preview function to carefully review the labels and minimize printing errors.

To generate high-resolution barcode labels for publishers and library industries, the user can follow a few steps. Firstly, they can create a new barcode label in two different modes, either the quick barcode mode or barcode designing view mode. Then, they can adjust various properties such as margins, character grouping, fonts, colors, and image orientation to fit their customization needs. Using a range of drawing tools such as text, picture, watermarks, images, and shapes, the user can design their barcode label. Moreover, the software provides a batch processing series facility to produce multiple copies of labels with different text and barcode values from an imported Excel or text file.

The software also grants the option to export the created barcode label in image or PDF format or saved as a log file. In combination with a flexible print option, the user can adjust print parameters, preview the barcode label for errors, and then print the labels.

Highlighted features of the software include creating books and magazine labels in linear or 2D barcode font standard, supporting all major barcode label printers and scanners, generating multiple barcode lists using Random, Sequential, or Constant Value Series, having a basic graphical user interface for easily understanding the software, and saving the designed barcode label images in various file formats like JPEG, TIFF, GIF, Bitmap, and various other file formats.
What's New
Version 9.2.3.2: Added Support for Latest Windows OS Updates. Added Support for High DPI resolutions Compatibility. Added new Barcode Technologies. Added additional Batch Processing Features to import Data from Excel Sheets.