This SMS sending software is equipped with an Exclusion list wizard that allows users to create or manage lists of excluded contacts or groups while sending bulk text messages via GSM phones. It supports global networks and can be used worldwide.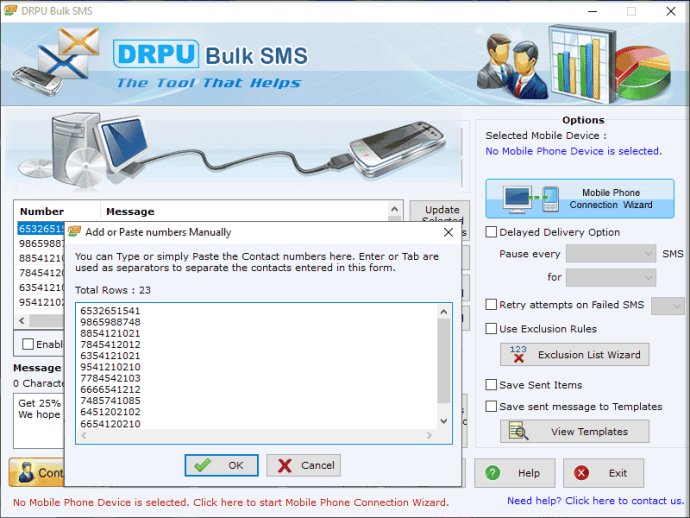 This software is an excellent tool for sending bulk messages using GSM mobile phones connected with windows. It provides a mobile phone connection wizard that guides users through the process of connecting their device. Once connected, users can view a list of connected devices and select a specific com port from the list.

The software features two modes for messaging - PDU mode or Text mode. Users can also test their SMS settings before sending messages by sending a test message to a required contact number.

To create and send bulk SMS, users must first download and install the Bulk GSM mobile device software. The software provides three different types of mobile phone options - android, GSM technology, and windows OS-based mobile phones. Users should select the GSM technology option and connect their device to the computer system. Connected devices will load on the wizard screen.

The software supports adding recipient numbers using the import and composing feature, which allows users to load contact lists from Excel or text files, add numbers manually, or create and send personalized SMS to each contact using an Excel data file.

The exclusion wizard list feature allows users to maintain lists of contacts or groups that they may need to exclude from time to time when sending SMS from their computer.

Users can choose between two ways of sending notifications - displaying them only on the contact number without saving them in the inbox or sending them as standard SMS, which means storing them in the inbox.

The software also includes advanced settings for saving sent items or messages to templates, supports Unicode characters in English and non-English languages, and does not require an internet connection. Finally, users can load contact lists from Excel files and share text messages with each recipient.

Overall, this software is an excellent tool for anyone looking to send bulk messages quickly and efficiently. Its user-friendly interface and advanced features make it a must-have for anyone who needs to communicate with a large number of recipients.
What's New
Version 10.2.4.4: Added Support for Latest Windows 11 OS Updates. Added Support for High DPI resolutions Compatibility. Added new Bulk Text Messaging Technology. Added additional Features to import contacts or messages from Excel Sheets.